Feni
Introduction
Defining Feni
Types of Feni
Producing Feni
Popular Brands
How to drink it
Guest Column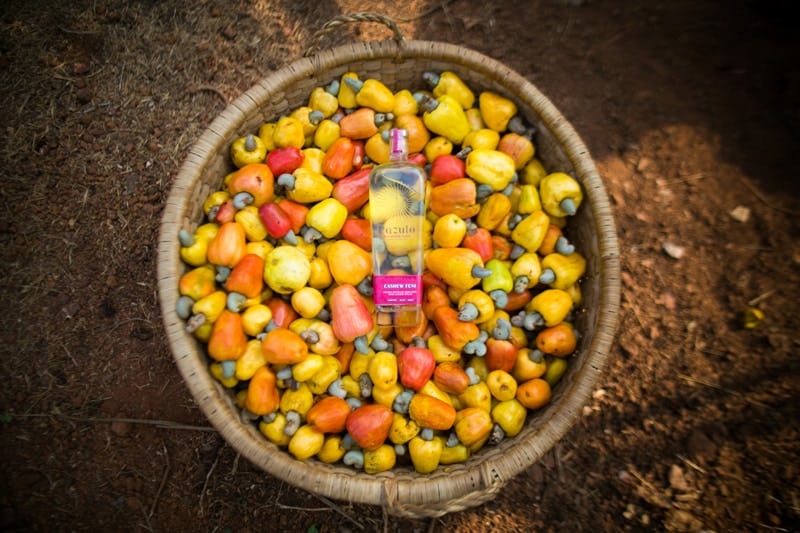 Introduction
Feni, a drink distilled from the juice of cashew apples, is an integral part of Goan culture, and is probably India's best-known local liquor. Locals also claim it has medicinal properties, and recommend it for stomach
problems and throat infections. Over the years, it has gone from being predominantly the liquor of choice for the lower classes to a famous drink that tourists are keen to try out.
Similarly, coconut feni is a product distilled from pure coconut toddy.
In March 2009, feni became the first and (till date) only Indian beverage to have obtained the GI (Geographical Indicator) status.
Defining Feni
Feni (sometimes spelt Fenny or Fenim) is a spirit that is made exclusively in Goa, India. There are basically two types of Feni – Cashew and Coconut. Cashew feni being more popular.
Feni is classified as"Country Liquor" and therefore is not allowed to be sold in India, except Goa. It is exported to countries like USA, Canada and Australia.
The word feni is derived from the Sanskrit word phena ("froth"); this is thought to be because of the bubbles that form a light froth when the liquor is shaken in a bottle or poured into a glass. It is generally accepted
that Coconut feni was produced before and then followed to adapt the same procedure for distilling the exotic cashew fruit. Coconut palms dot the coastline of Western India and Goa, whereas the cashew tree was an exotic species brought by the Portuguese to India.
Types of Feni
There are two types of Feni available in Goa –
Cashew Feni: made from ripened cashew apples
Coconut Feni: is distilled from fermented toddy from the coconut palm.
Producing Feni
The traditional method of making Cashew Feni and Coconut Feni is by the pot still method. The Aroma of Feni is an integral part of the drink. The small batch distillation of feni has a fundamental effect on its final character; still retaining some of the delicate aromatics, congeners and flavour elements of the juice from which it was produced. As a thumb rule, the aroma is indicative of a carefully crafted feni.
Harvesting:
Production process begins with procurement of cashew apples. Farmers/Villagers collect the ripe & fallen cashew apple which they supply to the feni distillery.
In the case of coconut fenny, the coconut toddy is collected from the coconut palm, and undergoes the distillation process.
Pressing/Crushing:
Once the cashew apples are brought to the distillery, the juice is extracted manually – by foot stomping or through a machine. Larger distilleries use machines due to larger quantities.
The juice is then collected in tanks.
Fermentation:
All the juice collected in the tank is kept for fermentation, which takes approximately 2-4 days depending upon the quality of juice & climatic conditions.
Once juice is fermented it is transferred in copper vessels for distillation process.
Distillation:
This copper vessel/pot is specially designed where in there are 2 openings – one on top for filling / emptying the vessel & other opening which is connected to a pipe for steam to pass.
Once this fermented juice is filled as per proportion, its mouth is closed with a wooden cork and sealed with clay & cotton cloth strips.
The still is now heated by wood fire and the distillation process begins.
The liquid collected after the first distillation is called "Urac."
Popular Brands
Feni is produced all over Goa, small time distilleries to large scale. Some of the most popular brands are :
Cazulo
Rhea
Big Boss
Goan Treasure
PVV
Fidalgo Deluxe
Cajulana
Swadeshi
Henry's
Mandovi Express
You could also walk into a local wine shop in Goa and ask them for a liter of their local feni and they'll pour it out of a barrel into an empty mineral water bottle. This is what the locals usually enjoy drinking.
How to drink it
The locals prefer drinking Feni with soda or water, while others like to drink it with either cola or lemonade.
A good quality feni can be drunk on the rocks with a slice of lime.
Cocktails!
Cashew Apple Varieties Collecting the Cashew Preparing the Cashew Apple Distillation The proof of the Cashew!