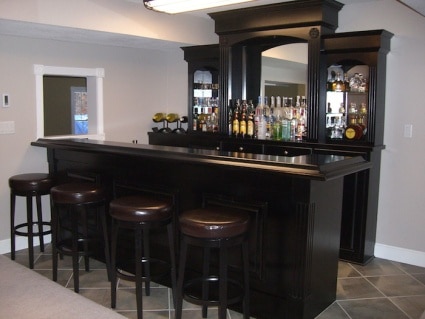 Mona Darling dances while Ajit pours you a drink and sharks swim around in the glass topped aquarium below your feet – what a way to enjoy your evening vodka! Or of course, you could make it simple and fix yourself a drink from the discreet cabinet in your living room. The choice is yours – you can have a bar as dramatic as Ajit's or as understated Utpal Dutt's in Shaukeen. Indians have come out of the closet as far as social drinking goes, and home bars have turned into lavish style statements.
I've been designing homes for the last 15 years, and one thing that hasn't changed much is the overall lack of interest that men show in furniture and furnishings – the only part of the whole home décor thing that gets them excited (apart from the pretty junior architect) is Getting the Perfect Bar. The home theatre comes a close second – after all, you need perfect surround sound while watching Bond take out the baddies – but it can't really compete with the Perfect Bar!
Jokes apart, getting the bar right is pretty important if you plan to do a fair amount of entertaining at home. Most parties end up with everyone crowding together for a drink, and automatically, the bar becomes the focal point of the evening. A bar needs to be stylish as well as functional – if you get the basics right, you'll give celebrity bartenders a run for their money even if you can't juggle bottles and manipulate flaring liquor.
So how do you work with your interior designer to get the Perfect Bar? Location is important of course, but so is the structure and the style – and unless your surname is "Rich" you probably need to work within a budget. Let's take these one by one.
Location: Finalising the location for the bar is the most important aspect of creating a comfortable bar. It can be as simple as designating a cupboard as a liquor cabinet anywhere in your home or more extensive like building a wet bar with all the amenities in your entertainment room.
You can have it in your living room in a corner or as a divider between the dining and living. The room divider is a good idea if you socialise often which gives enough space for the whole group to hang around the bar. If you are part of a joint family- then you can have a corner of your bedroom or study converted into a den. Ideally, it should be located towards a corner so that the circulations around the house dose not interfere with the bar or vice versa. Depending upon the space available you can go in for a wet bar with sink and a bar fridge or a mini bar which can have storage for your bottles and glasses and a counter to serve.
Budget: A readymade bar- shelf or trolley starting at Rs.3000/ to a custom made bar costing few lakhs – the choice is yours and entirely depends on your appetite. There are a few readymade options available in the physical as well as virtual market space. But if you are not so tight on budget then a custom made bar will be more functional and will add to the character and charm of your home. Also, in a country like India where labour is easy to find getting the bar customised isn't prohibitively expensive.
Style: The bar has to look like a part of your home. It can be just a statement piece with all other furniture and soft furnishings muted or it can merge with the rest of the decor.
There are a variety of home bars available in the market, ranging from simple straight, portable bars to large "L" or "U" shaped bars, which allow you to make a bar suited perfectly to your requirement. If you choose to have a bar custom-made, there is no limit to your design options.
So now you have all the basics required for building your home bar. A night out at any pub is expensive. But with take away, frozen or homemade snacks, few mixers and ice, an evening in your home bar is dirt-cheap. And if your spouse isn't yet convinced with your bar plan, present it as a smart investment strategy!
Continue on to Home Bar Design Part 2
Vishpala is an Architect and Furniture Designer (NID). For the last 14 years she has designed homes that are contemporary, classy and uniquely Indian. Her furniture blends functionality and form with the space to create a unique lifestyle experience. Her signature style is most visible in home bars and children's rooms. She is passionate about traditional Indian arts and crafts and as a founder of Ekibeki works with artisans across the country to create contemporary lifestyle accessories and home furniture and interiors while improving the livelihoods of the artisans. She lives in Mumbai with her husband and 3 kids.