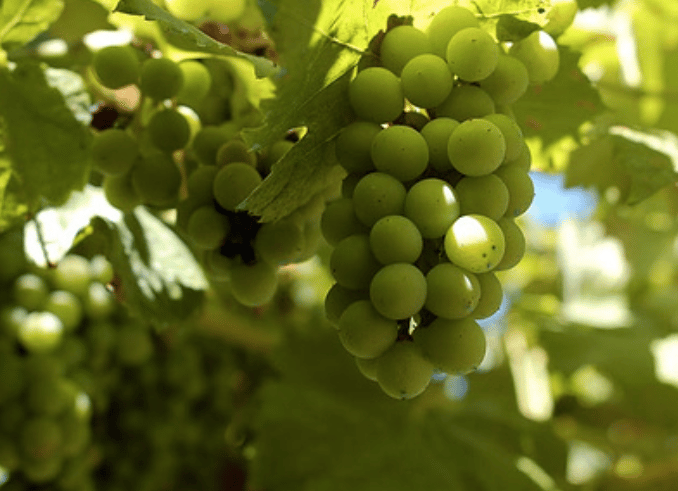 Among Portugals broad range of wine and wine styles, 'Vinho Verde' meaning 'Green Wine', is a very distinctive wine style, 'green' for young wine, as it has a unique freshness, a white wine fruity and full of citrus and mineral flavors and slightly pétillant.
Produced in the very Northern region of the country called Minho, it is from Portugal's greenest region, an agricultural region with frequent cool rains that come off the Atlantic Ocean. The Vinho Verde region represents the country's biggest DOC wine region.Frequently cool and wet weather makes ripening more difficult. Vines are traditionally trained along pergolas on the edges of fields, sometimes up the trees even, in order to grow free of possible moisture. Characteristically grapes are picked before full ripeness, which results in a wine with a relatively low alcohol degree in a range between 8.5 and 11%, a wine distinguished by its high acidity. Made either of a blend of grapes or as single varietal wines, the typical grape varietals used are Alvarinho and Loureiro, the latter being specially aromatic with a light smell of laurel leaf.
Unique in the world of wine, Vinho Verde is the perfect warm-weather drink, ideal to drink outdoors with higher temperatures. Down at Southern Portugal's Algarve beaches it is the ideal aperitif. Vinho Verde has started to be an internationally appreciated wine as well. Of the 92 million liters of wine, the major share is exported to more than 70 markets worldwide.
The wine is intended to be light and crisp, bottled soon after harvest and consumed in its fresh, vibrant youth. With its delicate body, this clean wine having a slightly fizzy character is not complicated to drink. The fresh citrus colors, sometimes also golden straw, the wine has the colors and taste of summer. Vinho Verde pairs well with the same food that any light white wine will go with. It is served chilled and seafood is one of the best matches. Any spicy food is pleasant as well, as it is ideal for a Sunday morning brunch drink instead of Champagne or Prosecco.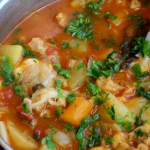 Let me give you a typical, easy to make recipe from Madeira (by the way, homeland of Cristiano Ronaldo), the Funchal Style Fish Stew (Sopa de Peixe a Moda de Funchal), Funchal being the capital of the island Madeira.
Fish stews, or caldeiradas, to be found everywhere in Portugal, in this particular version tomatoes are the important component. They need to be juicy and have all of their skin and seeds removed, chopped finely so that the tomato becomes invisibly incorporated into the broth, giving it a rich color and flavor. In fact, considering that the fish itself is only added at the last moment, this stew has a smooth, rich flavor while not being overly fishy.
Ingredients for 6 to 8 servings
4 medium yellow onions, peeled and sliced very thin
3 large garlic cloves, peeled and minced
3 tablespoons unsalted butter
3 tablespoons olive oil
2 large bay leaves, whole
1/4 cup Madeira wine
3 medium juicily ripe tomatoes, peeled, cored, seeded, and chopped fine
3 medium potatoes, cut into 1-inch cubes (peel only if preferred)
2 tablespoons minced parsley
4 whole cloves
1/4 teaspoon cayenne pepper
2 quarts water
1 pound boned, skinned cod (the cod is traditional, but you can also use another white fish such as halibut, haddock or whiting)
1 pound boned, skinned meaty fish such as swordfish, bluefish, mackerel or tuna
1 tablespoon of salt
Preparation
In a large heavy pan set over moderate heat, melt the butter together with the olive oil. Then stir-fry the onions and garlic in the butter and oil for about 15 minutes until limp and lightly browned.
Add the potatoes and stir-fry for an additional 5 minutes. Add the bay leaves, wine, tomatoes, parsley, cloves, cayenne, and water; cover and simmer slowly for 1 hour. Uncover and simmer 2 hours longer or until the liquid has cooked down and the flavors are concentrated but well balanced.
Add the fish, breaking up clumps; simmer 5 minutes only. Cool, cover, and refrigerate until about 20 minutes before serving.
Bring the chowder slowly to serving temperature; remove the bay leaves and add salt and pepper to taste. Prepare garnishes, if you like. You can sprinkle with Parmesan cheese, crispy fried onion pieces, or parsley.