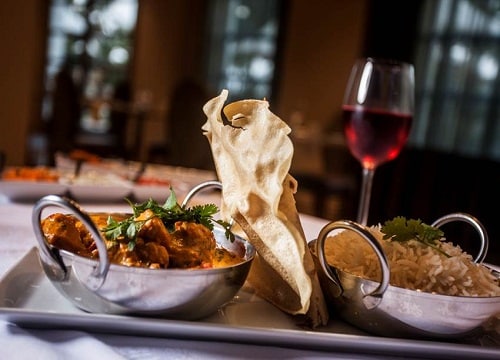 Pairing wine with Indian food is not as complex as it is made to be.
The realm of delicious matches is only limited to your imagination. There
is some widespread debate on how well Indian cuisine pairs with wine. I
personally, am optimistic on that rationale. The basic qualities that hold
wine and food in perfect harmony is the flavour, body, proteins and spices,
which is found in the extensive, varied and elaborate preparations of
Indian food categorized into Kebabs, Curries & Biryani. The traditional
conventional methods about pairing food with whites and reds does not hold
true in Indian cuisine for example a heavy creamy and spicy lamb curry or
beef korma will pair well with whites and flavorful seafood dish can go
well with lighter reds.
Indian food is a mix of all the aspects. The kebabs cooked on
'Tawa', 'Angeethi', the 'Tandoor'; with the right kind of cut marinated in
magical spices to be paired with wine is a prized combination. Livelier,
tangy Sauvignon Blancs, crispy Chardonnay and aromatic & flowery Chenin
Blanc are recommended ones. Though the Viogniers & Rieslings are always on my top list with Spicier versions of Kebabs. The Qorma, Qaliyan & Salan become the
perfect match to the full bodied Cabernet Sauvignon, Malbec & Shiraz.
The fruitier new world wines from New Zealand and Australia are great picks
with the Indian Curries.
With Indian cuisine you're unlikely to find that red wines with a lot
of heavy tannin are very food-friendly, and the same is true of both reds
and whites that have been heavily oaked, especially with lots of new oak.
The spice will tend to over-accentuate the tannic, oaky character of these
wines and in turn will overpower the food itself. However, a lightly-oaked
white, even a Chardonnay, particularly one aged with the slightly creamier,
vanilla and coconut character of American oak, can be a healthy pairing
with a dish that has coconut milk as part of its base.
Karanbir Singh Gulati,
Banquets Manager
WelcomHotel, Dwarka