Distilling this legendary distillery experience
Before you clap your hand and squeal with joy over any Indian connection, I'd like to pause and say no. This is no desi 'nagar'. Scotland's famous Royal Lochnagar, whose ch is a kh (that's right, from the epiglottis), and nagar is a jet-lagged nagaar, is a quaint distillery in the highland region of Scotland.
But for me, the long drive from Speyside to the Highlands was for 3 selfish reasons – to experience the Royal Games – Breamar Royal Highland Gathering, and if lucky enough, catch a royal glimpse of Her Majesty The Queen, a patron of the games. Finally, the most important – a visit to the Royal Lochnagar distillery.
Braemar a small village in highlands known for its sporting event, Breamar Royal Highland Gathering. Athletes, musicians, dancers from across the world compete with one another at this annual event that puts Aberdeenshire's only highland village on the world stage, this year following close on heels to the commonwealth Games in Glasgow.
My euphoria of reaching the gathering was a bit short-lived, for between the pipes, fanfare, marches and games, was a spell of rain, rendering it quite a slushy fare. Beef hotdogs, fresh cream and strawberry and rain soaked boots is a memory I will cherish forever. And the fact that I did manage to spot Her Majesty's car. I am sure she saw me waving madly at her! Bucket List, box number two – check.
THE DISTILLERY VISIT
From sports to spirits, the distillery, outlined by a dense green forest, is a short drive from Braemar and has been set by the Balmoral estate, one of the private residences of the British Royal family. The prime location is its vantage point, one that bagged it the Royal Warrant in 1848 when John Begg, its founder, invited Prince Albert to visit the distillery. The following day, the distillery played a happy host to Queen Victoria, Prince Albert and their children.
If you ever venture from Speyside, one cannot spot signature pagoda atop the distilleries there. Instead a long stone walled building, housed within manicured green surroundings is a captivating sight. However that's not where the romance lies, it's in the small production quantity where the magic is. One almost forgets that this tiny unit is a part of a gigantic group called Diageo. Much of its whisky is released as a single malt, although it is also a key component of high-end blended whiskies, such as Johnnie Walker Blue Label.
The visit also revealed intriguing chapters from its history – the first Lochnagar distillery was burnt down under suspicious circumstances in 1824, by illicit distillers and a replacement again burnt down in 1841. In 1845 John Begg built the "new" Lochnagar. They also claim, "if Glenfiddich has the largest production in Scotland, then we produce annually as much as they produce in two weeks." Wow – if craft distilling has ever been equated to scale, this sure would have qualified.
THE WHISKIES
Light, sweet and delicate is the hallmark of all Royal Lochnagar whiskies. With maturation in Spanish sherry casks, the affair gets a lot more regal, especially with the expression – Royal Lochnagar Selected Reserve. The filling up of the cask happens 100% at the distillery, a rare practice that highlights the level of craft here. The infant spirit un-matured out of the distillery when tasted, almost tastes like the Walker short bread, since it is a bit malty in addition to being sweet and elegant.
We tasted 2 variants, Royal Lochnagar 12 Year Old and Royal Lochnagar Selected Reserve.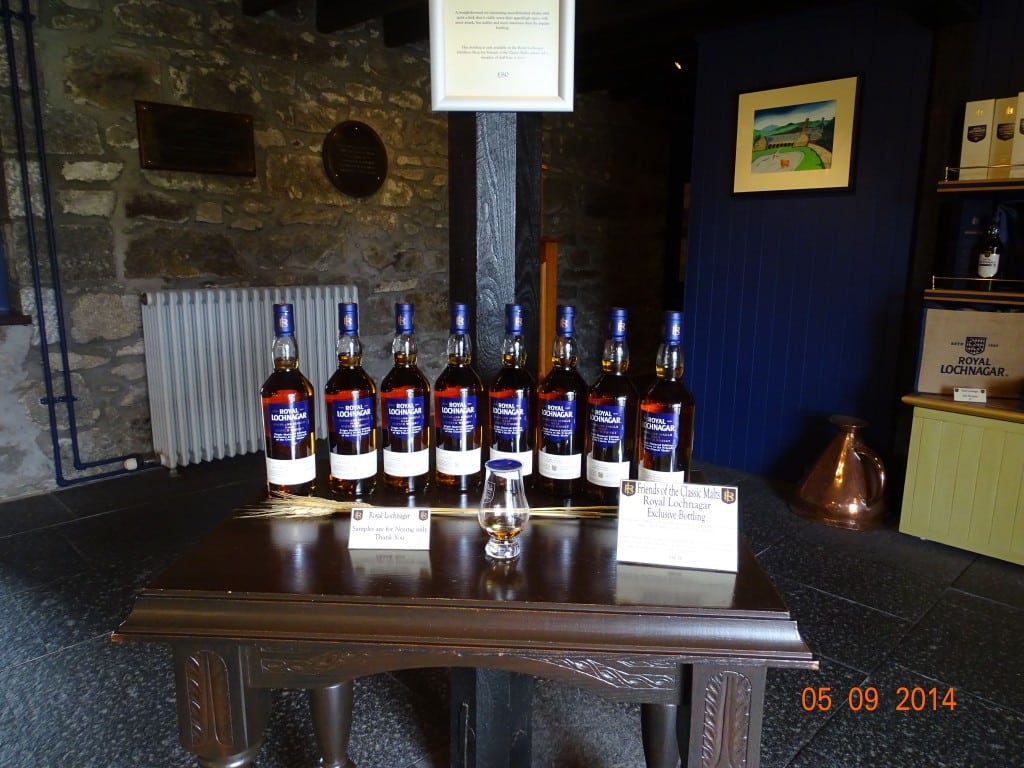 I found the 12 Year Old refreshing, fruity, a spicy malt, sweet on the palate, reminding me of apples, bananas, malty and dry at spaces. Overall, elegant and delicate enough to give whisky newbies a go or for those moments when you need a refreshing and clean drink.
The Select Reserve, on the contrary, has a big sherry influence. An un-aged variant, this malt is dark, with an exceptional fruitcake-like influence on the palate, the rum and raisin lending the effect of a Christmas pudding. It's such a bold contrast to the earlier expression that it almost wipes the distillery character off one's head.
I'd make this an after dinner or a dessert malt, and if paired smartly to scoop the flavor out, could accompany the main course like a mutton shank or Tenderloin of Beef. Though my most divine pairing with a malt, such as this, is dark chocolate with a big swig of the Selected Reserve.
Bring on the Christmas cheer, intense, dry, vintage and regal!