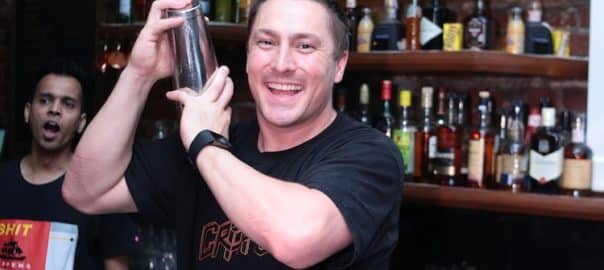 I'm with Dean Callan, global brand ambassador for Monkey Shoulder, the blended malt that has taken the world by storm. Dean is in New Delhi for the finals of the Monkey Shoulder Ultimate Bartending Championship. It's Dean's first trip to India, and his anticipation is considerable. So far, whatever he's seen of the first bar he's visited, Ek Bar, augurs well he says of the Indian bar scene. Made mellow, as we both are by Ek Bar's Royal Punch, who's to disagree?
Dean is not a stranger to Asia though, and worked across China for 18 months. As he said it was one of the best growing experiences of my career. The culture was very different and he got to do things, which he didn't see himself doing. "When you're part of a fast growing cocktail culture, right at the start, you're a lot more selfless in teaching people", says he.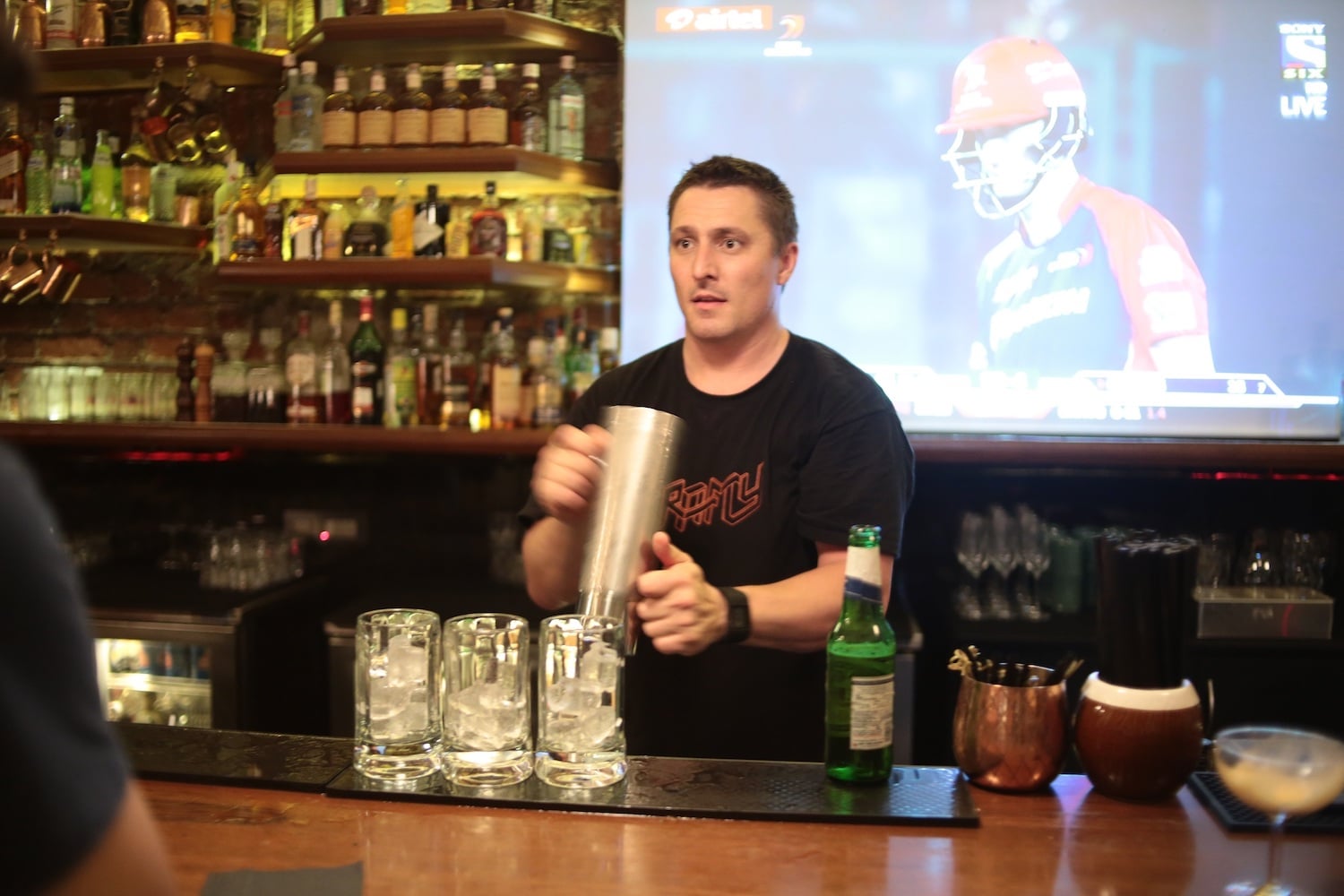 Did you learn Mandarin I asked him?
Dean – The very first lesson I got in Mandarin I asked the translator what she called a bartender and she said "Foo yea" which when you hear it sounds like a very derogatory term. As opposed to "shifu" which is the word Chinese use for a master. A taxi driver for e.g. is "shifu", which means they know how to do something, but to call someone "foo yea" is like treating them as unskilled labour. I tried to change that and say that a bartender is like a Shifu, he's like a Master of his craft and the pushback was that a bartender has no skill, anyone can be a bartender. The translator teaching me was so negative, saying that bartenders know nothing, it's a nothing job and anyone could bartend. I told her the same could apply for her profession as everyone in China knew Mandarin, so even you should be a "foo yea", and we had a falling out. I then learnt enough to get by though and by the end of my time there, could understand a fair bit.
From China to London then, I ask him?
Dean – It was really good. I was in London for about 8 months and only there a few weeks before I got a job at Milk and Honey (Editor's Note – an iconic cocktail bar). It's not an easy place to get a job. Fortunately I had a friend there, who got me an interview. The bar manager asked me to make him a cocktail that I loved which I thought was a good quality cocktail and one which I thought was a bad quality cocktail. I looked around the bar, and said, "I don't know how to make a bad cocktail with the ingredients that you have. You only have fresh juices, you only have quality spirits and syrups, and bad quality cocktails use terrible ingredients". So he said, "Ok, what's the worst cocktail that you can make"?
I told him that I was going to make him a cocktail that has a very bad reputation, but I still think that people like to drink it that was an LIIT. Then I was going to make a Corpse Reviver # 2. And he stopped me before I was going to make it and said, "that's on our menu", and I said "yeah"! And he said, "You've got some big balls to make a cocktail which is on our menu, with your own spec". I said no! I made the drink and I thought I wasn't going to get the job and I got it, so I was quite lucky.
Was Milk and Honey London connected with Milk and Honey in New York.
Dean – Yes. Jonathan Downey opened Milk and Honey London in association with Sasha Petrovsky. Sasha helped open it, as regards setting up procedures / drinks preparation / etc. It's changed a little bit since then, however it's the same ethos and same passion. After Sasha's death, it's put a lot of pressure on Milk and Honey London to preserve the ethos of Milk and Honey. The building in New York where Milk and Honey is housed has got a demolition notice, so we may end up being the only one in the world!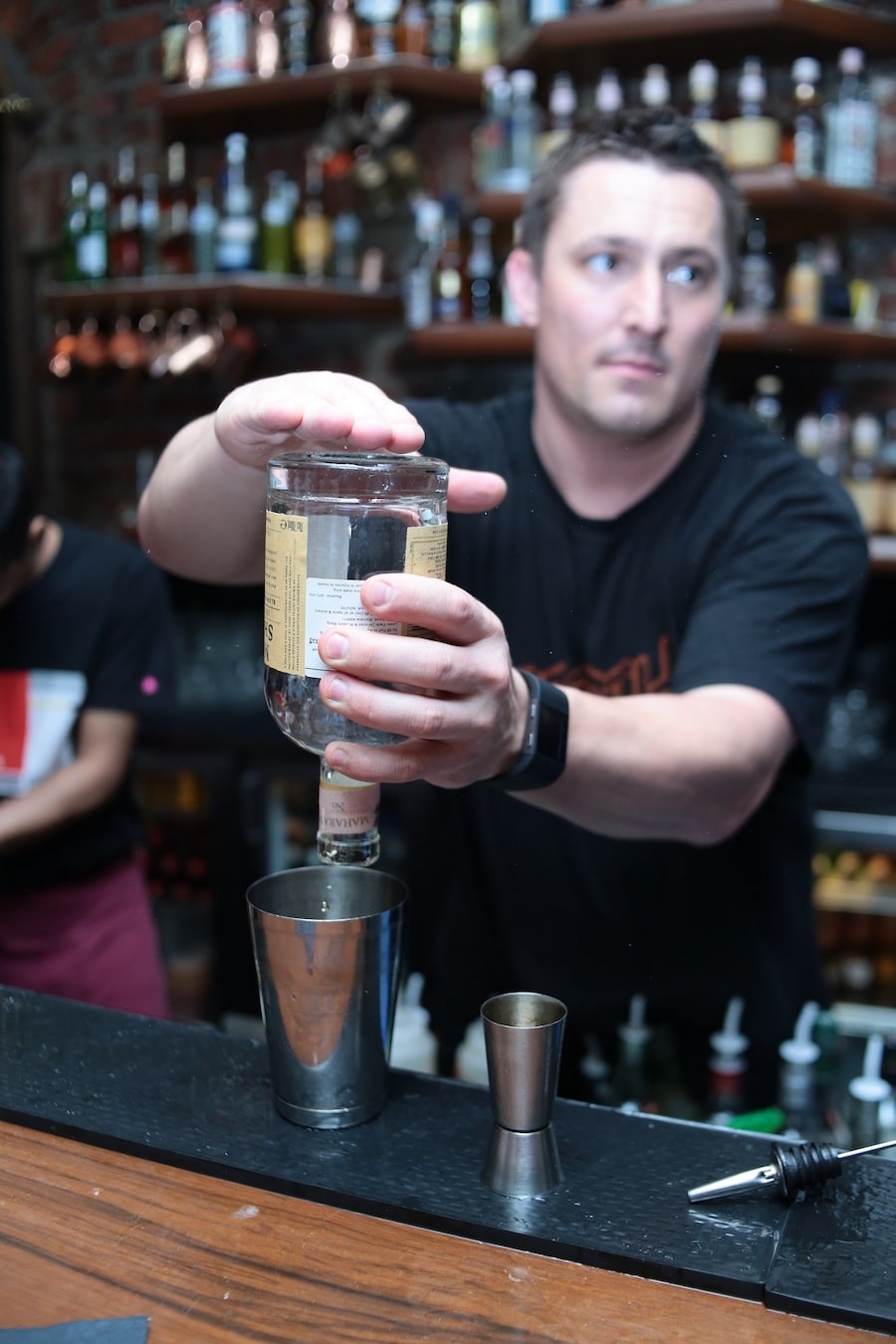 I understand that the term Monkey Shoulder derives from a work related injury suffered by the Malt men when they are raking the barley repeatedly, which causes their shoulder to elongate and stoop like a monkey. How did that end up as a brand name though?
Dean – Well I'm going to be completely honest and give you the real story, not the marketing spiel. When William Grant and Sons thought of this brand, they felt that it was a brand, which should be easy to drink, and targeted at people who don't already drink Scotch whisky. So they started with a flavour profile. Usually in the brand world, the brand and the packaging design come first and the liquid comes second, as marketing drives the process.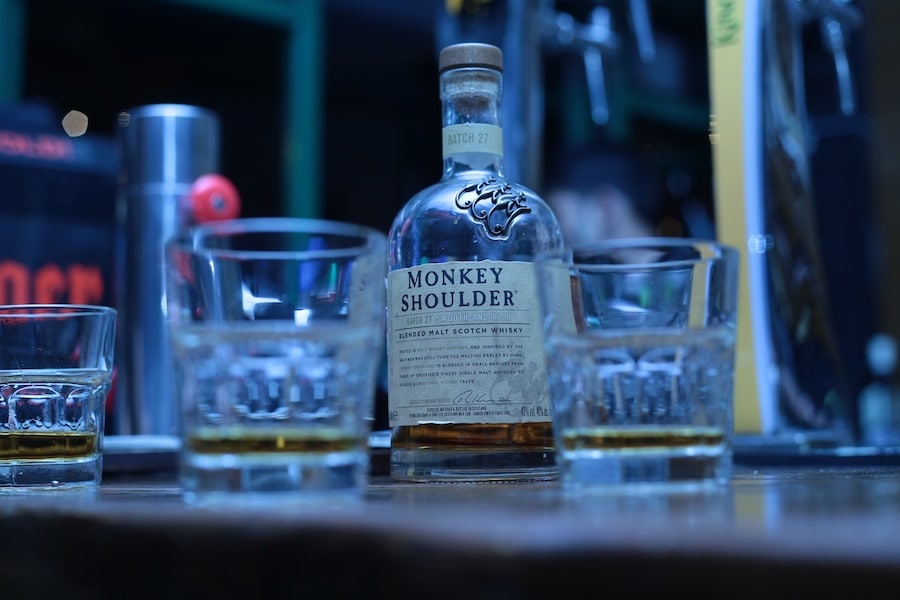 But William Grant and Sons is a family business, and this was a family decision. The family decided that they wanted something, which appealed to people who didn't drink Scotch whisky that is it, should not be smoky, and should be smooth and rich with simple flavours. So Dave Stewart, the then malt master came up with a few different recipes. In fact, in our marketing store we have some of the original samples of three batches – 19, 27 and 22. These were code names for the various batches. These samples were sent to the family who tasted them all and decided to go to with Batch 27.
The marketing department had to come up with a name now for this amazing blend, and alternatives suggested were Spice hunter, Spey River and William Grant and Sons 100% Malt Blend. None of the names seemed to fit, so they looked at the components of the blend, and at the time there was some Balvenie in there, so they went back to the malt masters of Balvenie and asked them for some inspiration. What were the things, which were unique to Balvenie and one fact, which stood out at the production unit, was the floor malting as Balvenie still does it's malting the traditional way, and from there the term Malt shoulder or Monkey Shoulder sprung. They decided this was a great opportunity to make the brand unique. Malt shoulder or Monkey Shoulder didn't sound like any other Scotch whisky and it was very different. It also gave them an opportunity to tell a story on how the whisky was made. And then the whole monkey thing started. Originally the monkeys perched on the shoulder of the bottle were plastic. They also figured that as a brand story, the name Monkey Shoulder give them far more to play with. 3 Monkeys, because there were 3 malts in the original. Glenfiddich, Balvenie and Kininvie, all 3 owned by William Grant and Sons.
The brand team assumed they would be able to stick with the exact same whiskies in every blend, which is impossible. We always use only 3 malts from Speyside; we used first fill bourbon casks. Originally we were only doing a batch of 27 casks at a time, but that's so tiny, so we had to stop doing it.
It's not always Balvenie, Glenfiddich, and Kininvie now. It has to be 3 malts from Speyside and for one of them a portion has to be turned by hand. The flavour profile of Balvenie is not the same as Monkey Shoulder. So if there's a cask of Balvenie, which is ageing, and which is very sweet with a lot of Vanilla, this might make up a tiny portion of Balvenie Double Wood, but for Monkey Shoulder this makes up the bulk of the whisky. What matters now is it good quality malt and does it taste like Monkey.
Globally there is a shortage of aged single malt whisky. So is a product like Monkey Shoulder a creative response to this shortage?
At the time Monkey Shoulder was released, Scotch whisky wasn't so popular. This was 10 years ago and there wasn't that much shortage then. Also for a company to use massive amounts of younger whisky, they are only hurting themselves down the line. If we only use Glenfiddich, Balvenie and Kininvie in Monkey Shoulder, then it's not good for these 3 brands, because their stock of aged whisky is being diminished. They are building more and more warehouses to age these whiskies. And a lot of older whisky is going back into these brands. The age on the label may say 21, but the whisky inside might be much older. It's not a huge expense to age the whisky for a longer time, but the quality and value addition you're getting is outstanding.
Often a 10 pound bottle of whisky can be really good. If you took a bottle of William Grant's Family reserve and put in it a decanter and said there were only 10 of them, you'd probably have people raving about it. So a lot of this is about perception and marketing. If you like the taste of it, drink it. Trends keep coming and going. It started with colour, then went on to age, then to non-chill filtered, then to cask strength then to finishes and then to single cask! I drink a lot of whisky (shows me a picture of the bar in his back garden). There's a lot of whisky in my bar and I drink everything.
How did Monkey click with everyone, including the bartenders?
Dean – In my experience, there was a thirst among younger people for a product like this. A lot of Scotch whisky drinkers, are very passionate about their whisky, and got their friends to drink whisky, quite often by starting them off with the whisky they liked, which more often than not, could be smoky or peaty. A sure way to turn them off the category. In larger markets we didn't have the budgets to take on big brands. What we had was the freedom to be someone's peer, to be at his or her level. So if someone is drinking a gin and tonic, then we'll mix them Monkey Shoulder with a squeeze of lime and dry ginger ale, which is a Mamie Taylor. It's easy to move from a Cuba Libre to a Mamie Taylor and the rum drinker says actually Scotch whisky is not so bad. But if they go from a rum cocktail to neat Islay whisky at cask strength, it's too much. I think the success has been that we've been flexible and we've approached people on their own terms, after listening to them. There's a very old saying in hospitality "treat people the way you want to be treated" – but that's wrong – "you have to treat people the way they want to be treated". And that's what we did with Monkey Shoulder.
What's your desert Island Drink?
Dean – To be completely honest a Pina Colada.. maybe with Monkey, which would make it a Monkey Colada. Pineapples have lot of sustenance. Sugar for the energy, citrus for the scurvy. I'd use coconut water, which has a lot of potassium. And a little bit of cream for the fat content!