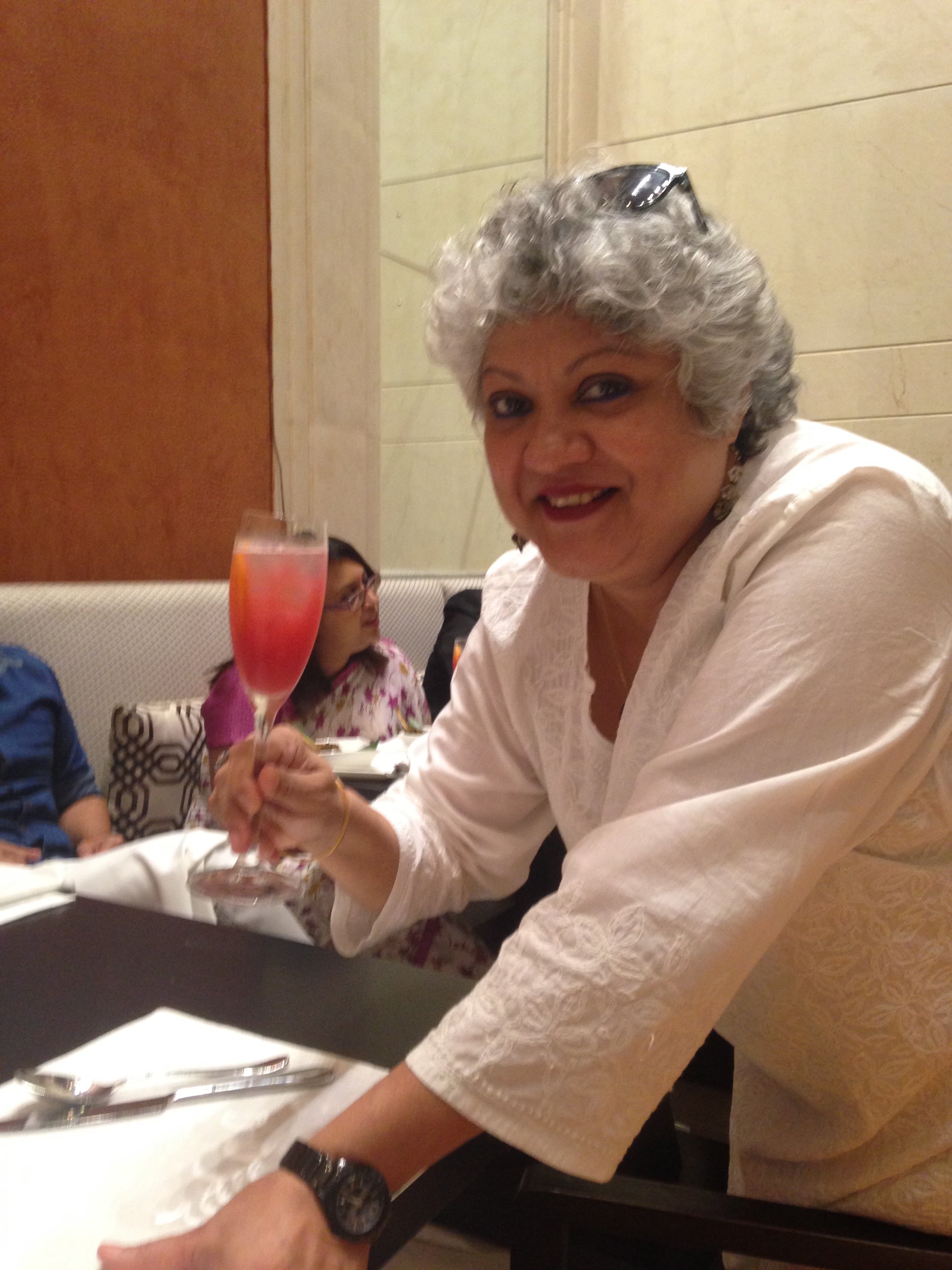 I've heard that in some countries it's known as the Devil's share and not the Angel's share. I'm referring to the liquid which evaporates each year from the casks in which it lies maturing, typically applying for spirits such as whisky, rum and cognac. In harsher climates such as India, the Caribbean and to my surprise even Kentucky, the loss of liquid can be higher than that in Scotland. Apart from the loss of liquid, maturation is also quicker – a year of maturation in a warmer climate takes Scotland 3/4 years to achieve because of the cold weather. That's why the number of years of maturation is not given the importance for bourbon or Tennessee whiskey as it's traditionally been given in Scotland. They know that maturation is not just a function of the number of years but of the weather and the interaction of the spirit with the wood because of it. Most American Whiskey will only put the years from 6 onwards.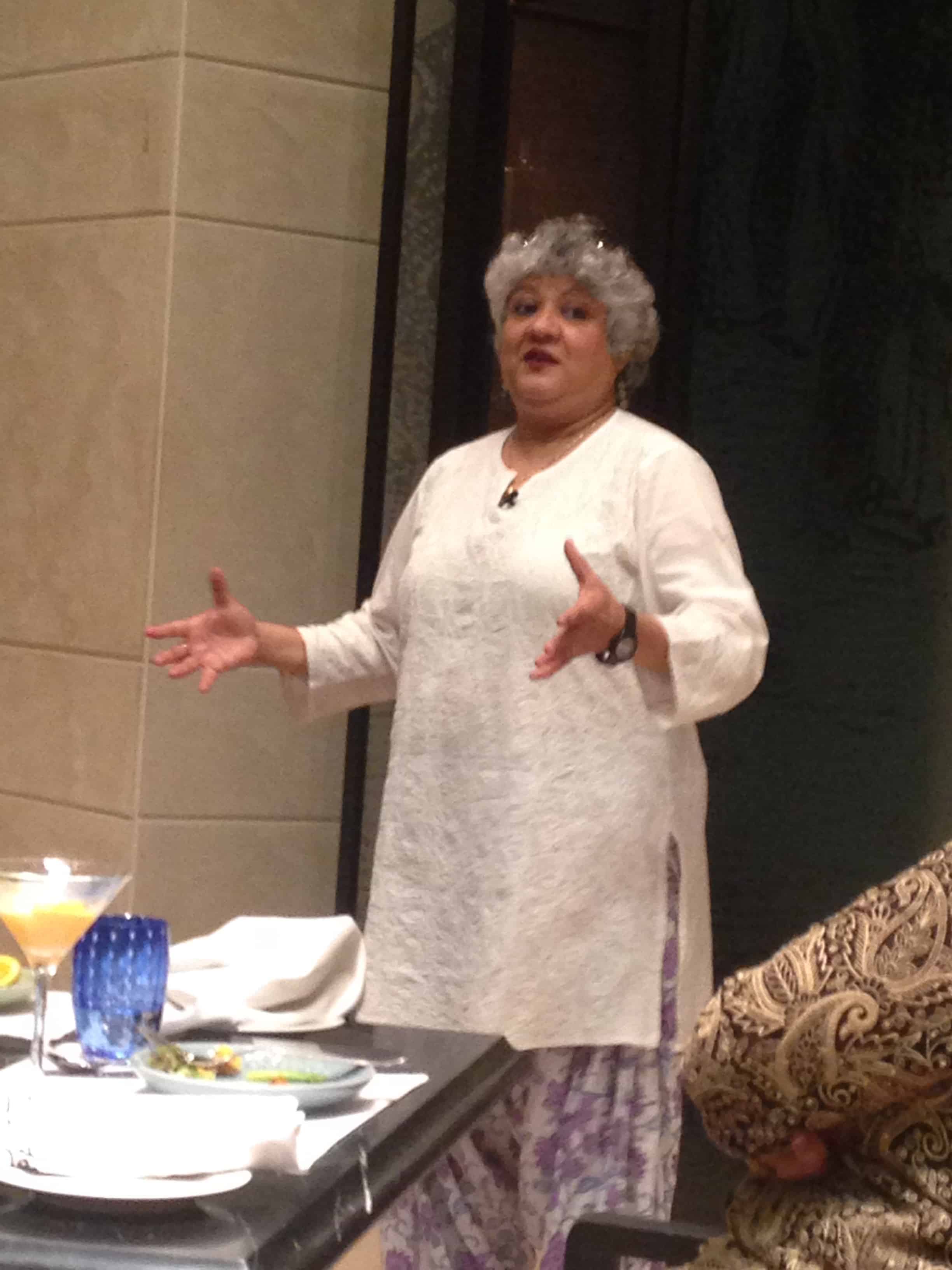 Shatbhi Basu
Its nuggets of information like this (+ a lot of whiskey!) which drew me to an American whiskey appreciation evening with a difference, hosted by Shatbhi Basu, a doyenne of Indian bartending and currently ambassador for American whiskey in India. Shatbhi gets the evening started by getting us to rub our hands together with a four year old bourbon to see how just a few drops had an incredibly big fragrance which got could only get from a scotch that was 12 years and above. She even suggested that we could replace our regular aftershave with bourbon because it smells so good (might even be cheaper!)! What could be better than a sip and a splash!
Delhi Pavilion, ITC Sheraton's spanking new venue, which pays tribute to Delhi's heritage was the host venue this evening and Shatbhi had drawn upon the ingenuity of the Chefs there to pair a range of American whiskey's with a set of Indian dishes, from the street food of Delhi to the Nawabi cuisine of Lucknow and she had in front of her, a ready set of 30 something guinea pigs.
Our first course was a chilled shot of Maker's Mark bourbon served with a selection of typical Delhi chaat, a portion of Alu Tiki and a dahi bhalla served on a papri. The icing on the cake was the date perched on the rim of the glass. Bill Samuels Jr is the current President of Maker's Mark and has a family tree which links back to the famous outlaws, Frank and Jesse James!
Next up was a cocktail concocted by Shatbhi, a chilled shot of Jack Daniel's covered with a layer of citrus foam and served in an ice cold martini glass, all of this served with a portion of fried fish. Delish! And if you thought Bill Samuel's had a colourful history, then even if you tried you couldn't come up with the story of how Jack Daniel's is believed to have died! The story goes that he kicked his safe in anger, when he couldn't remember the combination, which led to blood poisoning and his death! Jack Daniel's has taken this gory fact and made it the basis of a sales promotion they run periodically wherein you need to guess the combination of Jack's Safe, and the correct answer could get you a trip to Lynchburg, Tennessee, the home of Jack Daniel's and a dry county to boot 🙂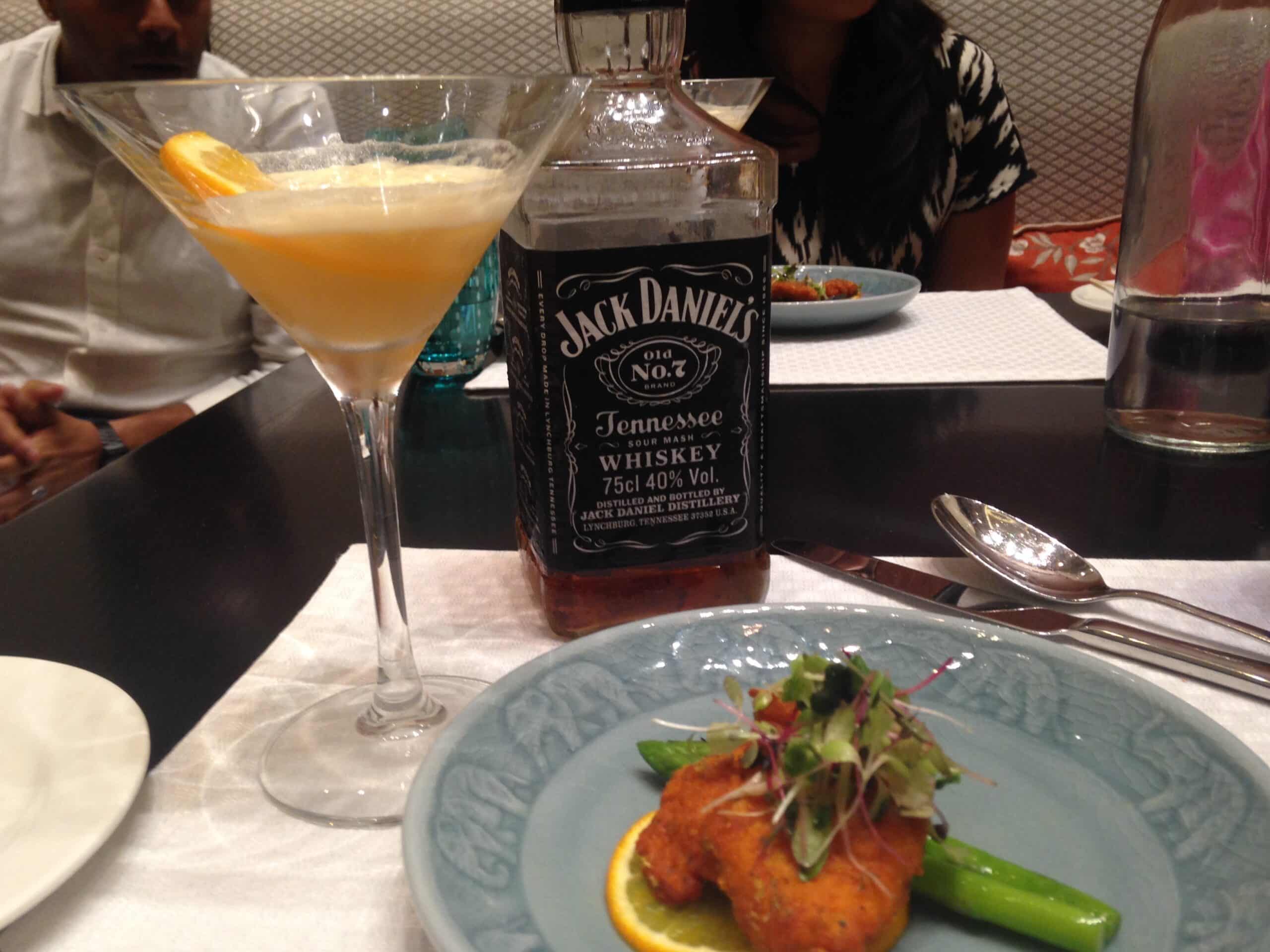 JD and Fried Fish
From the Delhi fried fish we traveled south to a piece of lamb, Chettinad style, served with a Jim Beam & Pomegranate Sour (mixed up with fresh pomegranate juice and served in a champagne flute).
From Tamil Nadu to Lucknow, as we savoured a shot of cold Woodford Reserve infused with a hint of saffron, served straight up with a portion of galauti Kebab.. and my favourite touch was the slice of aam papad served with it. One of the finest bourbons from the house of Brown Forman, Woodford Reserve is handcrafted in small batches. The rich, fruity taste of the bourbon complemented the aam papad perfectly and was more than a match for the spicy galauti.
Our dessert was liquid, a chilled shot of Tennessee Honey (a blend of JD and Honey liqueur), served with a selection of traditional Indian desserts. And a decadent Choconut Madness (bourbon blended with chocolate, peanut butter and ice cream) served smoked with a crisp brandy snap lid to hold the smoke.