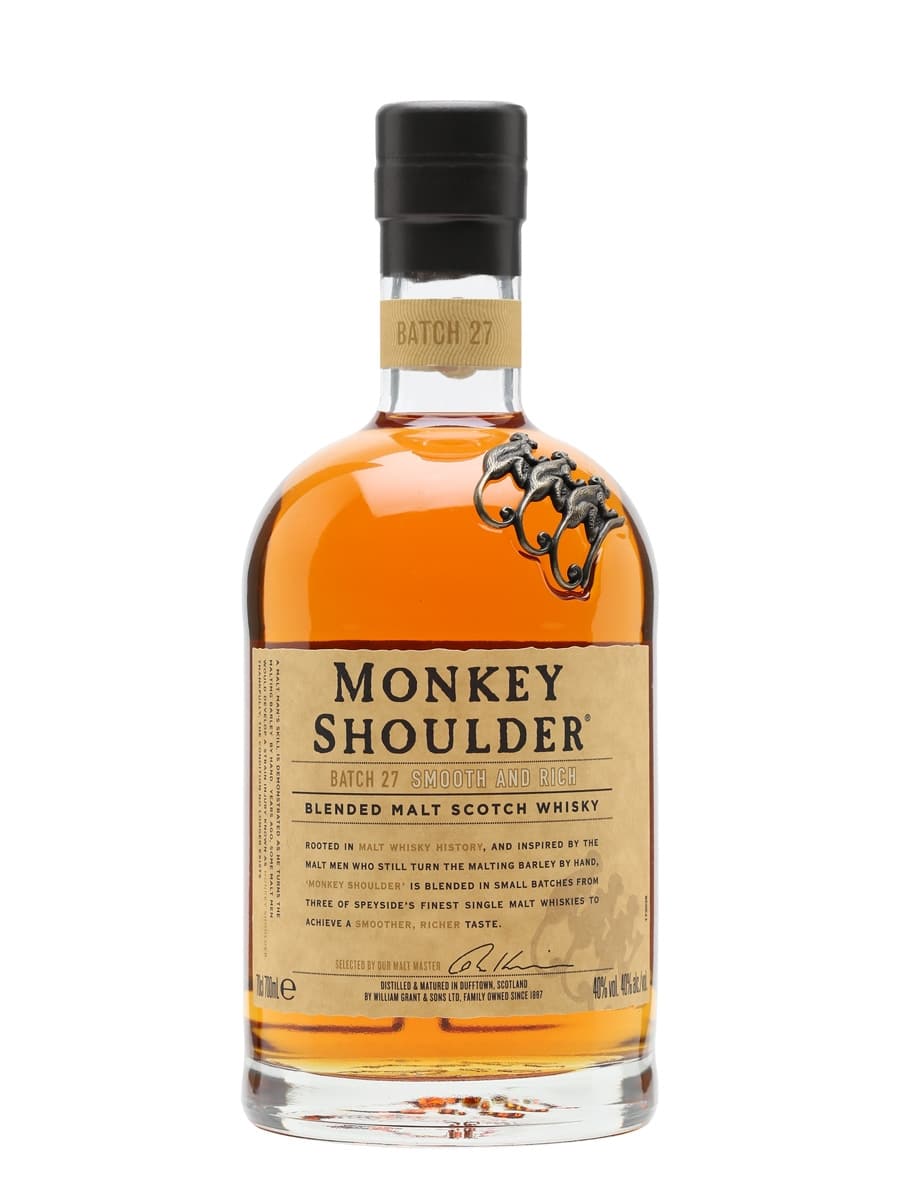 With the launch of Monkey Shoulder in India by William Grant & Sons, the topic of Blended malts is back on the table. Vatted Malts, or Blended Malts as they are officially now known, are made only from Single Malts. So, no grain whisky, only malt whisky, and they needn't be from a single distillery makes it a Vatted malt.
The Monkey Shoulder derives its name from the curious way the arms and shoulders of the malters from yonder years use to droop – akin to shoulder of a monkey and thus the name.
Name and bottling apart, and the bottle is a collectors item with its metal embellished minimalistic finish, Monkey Shoulder is a fine blend of 3 Speyside malts. William Grant & Sons that owns both the legendary Glenfiddich & the superior Balvenie brands doesn't shed much light on the source of these whiskies but lets the spirit do the talking.
The Monkey Shoulder with it's distinctive yet characteristic Speyside nose and taste is a must in one's bar.
But since the purists want more, may I suggest you seat the Monkey Shoulder with the Nikka Pure Malt. From the house of Nikka come the Red, White & Black Pure Malts with spirits from the 2 distilleries they own in Japan the Yoichi & the Miyagikyo. Nikka whiskies are made Scotch style – the founder Masataka Taketsuru came to Scotland to pursue education and found his calling in whisky world instead and thus imported his knowledge & experience to found Nikka .
Nikka Black is a highly rated whisky and a must have for its fine nose of asparagus and rich fruit in a decanter again worth saving for long.
Also look out for a limited edition released by Compass Box from Scotland, called the Last Vatted Malt. A mix of fine malts from Islay and Speyside only 1323 were released. The name is a bow to the phasing out of the term Vatted Malt by the Scotch Whisky Association and it's replacement by Blended Malt.
So, Go Pure, for sure!