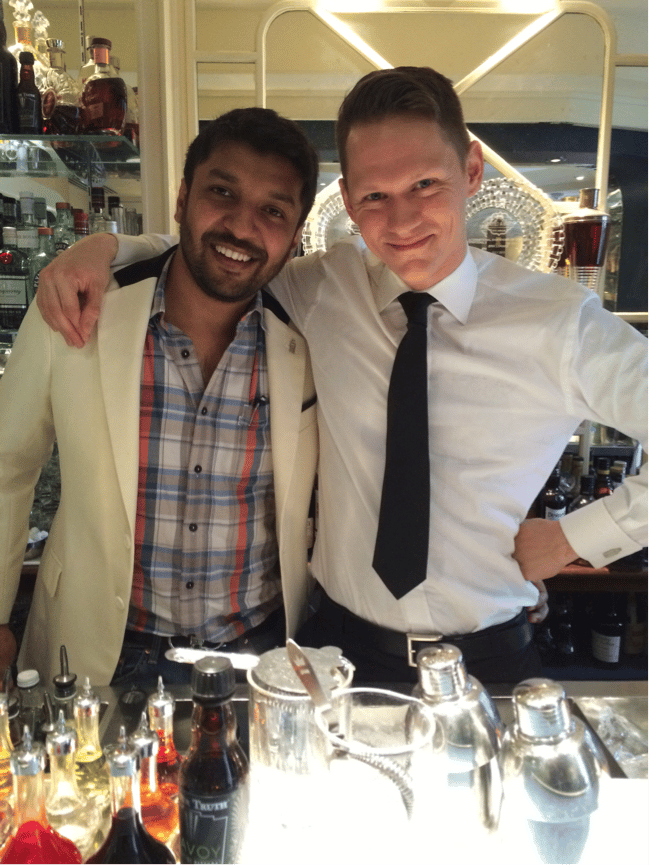 After opening Bootlegger, I further developed interest in mixology and vintage cocktails. Because of this I started to read, study and travel a lot looking for techniques, presentation and even the history of spirits and cocktails. After extensive reading and experimenting at home I first travelled to the US, where I visited bars and speakeasies like The Dead Rabbit, PDT, Employees Only, etc. It was at these bars I realised there was no looking back and I was very keen on bringing the cocktail culture home.
My next journey took me to Europe where I was able to study different drinking and cocktail cultures. I saw, that every bit was important- right from sourcing the ingredients, to the different spirits they use and the final presentation. I learnt a lot from the mixologists and bartenders who had extensive knowledge and experience, and have no intention of stopping until they achieved perfection. I visited bars like Tales & Spirits and Door 74 in Amsterdam, The Hemmingway, Bugsy's and Black Angel's Bar in Prague, Le Lion Bar de Paris in Hamburg, Barfly's Club in Vienna, etc. It was amazing to see how spirits and other elements, when mixed to perfection, can create a perfect balance of senses – the sound of the shaker, the sight of colours and garnish, the aroma and finally the taste of the cocktails. All this contributes to the fact that every cocktail is indeed a story.
While in Europe, I made many friends and contacts in the industry because of which I was lucky and elated to receive an invite to the London Cocktail Week and The World's Best Bar Awards! The London Cocktail Week is an event where almost 300 bars come together to promote cocktails. Simultaneously, there are many workshops and seminars taking place all over London educating professionals in the business about new products, spirits, techniques, technologies and trends.
In London, I visited about thirty-five bars from the list. At these bars I met some of the best mixologists of the world namely Alex Kratena, Augostino Perrone, Simone Caporale, Ondrej Posphical, Troels Knudson, Marian Beke etc. London truly kept up to its reputation of being the cocktail capital of the world. The bars left me speechless. Every detail was amazing- the bar design, the interiors, work stations, working styles, glassware, bar techniques, equipment and perfect guest service.
Few things I found interesting are:
Hierarchy– This was almost non-existent. Unlike most bars in India, you will see the seniors perform all jobs at their workstations – right from cleaning the area, washing the glassware to helping their juniors out on busy nights. In fact, when we went out to another bar one night, one of my newly made mixologist friends jumped right behind the bar because it got extremely busy, and helped the bartenders out. Apparently, this is very common practice and the mixologists and bartenders have a strong community. This is something I would love to see in India too.
Detailing – Every element of service and presentation is equally important to these bars. It goes beyond making the perfect cocktail. Every perfect mixologist or bartender has a strong personality- he will make good eye contact with his guests, strike up an interesting conversation mostly about the cocktail he's making, have the perfect methodology, use interesting mixing and garnish techniques. Everyone working at the bar ensures that the guest doesn't just have a cocktail, but an experience that will last and make them want to visit the bar over and over again.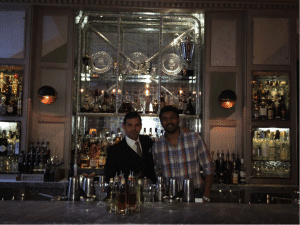 One of my best experiences was at the The Connaught in Mayfair where I had the privilege of having a Bloody Mary with celery foam made by master-mixologist Augustino Perrone. Not only did he make this cocktail, he also spent time giving me ideas and knowledge on bar techniques and mixology.
Another unforgettable experience was my visit to The Artesian at the Langham Hotel- which also won the Best Bar Award 2014. Here, I met Alex Kratena, who made five of their best cocktails for me from their recently launched Butterfly Menu. These were probably the best-presented cocktails I have ever seen. This bar truly takes sensory perception to a new level.
The highlight of my travel was the award's night where I met the best people in the industry from bartenders to bar owners. The most memorable moment was when I had the chance to meet David Wondrich- an authoritative in the history of spirits who is widely known to start a revolution in craft cocktails.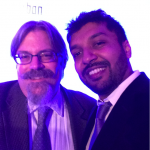 Coming back to my keenness to bring this culture to India, we are a country where incense, spices and other interesting ingredients are freely available. At The Artesian, they used sandalwood incense in one of the most famous cocktails, The Camouflage, which not only added character to the cocktail but also took me by surprise!
Finally, I hope to see and experience lots more drinking and cocktail cultures around the globe, and maybe see our very own Cocktail Revolution!