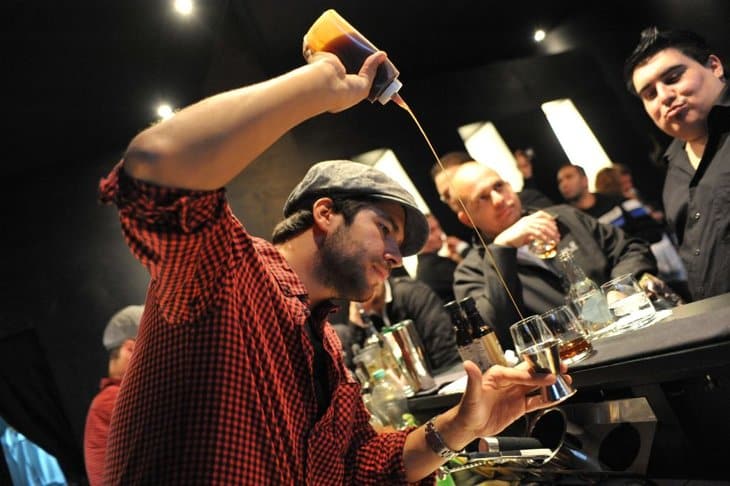 Berlin… Just the name conjures up a huge amount of visual images: The good ol' Trabant, the wall, the war etc.… However, in spite of its long history, the city feels young and is bursting with energy and boasts some of the best bars I have ever been to. Not so much because of the often simple, well crafted drink lists but because there is a fundamental understanding that the quality of a bar goes well beyond its cocktail list, indeed, Berlin operators understand that a great bar is greater than the sum of all its elements: The theme, the bartenders, the drinks, the surroundings, all of them must match and be coherent with one another… It is an attention to details that many emerging cocktail capitals should emulate.
What better place then, than for two of the most impressive trade show I have ever visited: The Berlin Rumfest and the Bar Covent Berlin.
The Berlin Rumfest was started by one of Europe's rum visionary, Dirk Becker. The show takes place before the UK Rum fest and B.C.B. early October. A great news for travellers and show goers, as they can kill three birds with one stone in a short period of time. The Berlin Rumfest is its 2nd year and has rapidly grown to be THE rum show for continental Europe… it has enough rums on offer to repeal "black tot day"!
While I pride myself being an educated drinker, I must admit that I am forever amazed by the varieties of rums that are available to us! From the dry, clear over-proofed rums from Nine-Leaves made in Japan, to the complex, creamy and outstanding rums from Gold of Mauritius (Definitely one to watch!) and the more esoteric Frankonian rums of Germany to the big brand names; all are there to be sipped, tasted, discussed and learned about! Another great feature of this show is that you are usually in direct contact with the person who makes the rum, rather than a bored salesperson who drew the short straw! The educational seminars are usually well done, and as commercially minded as expected. Lastly, the blind tastings are all conducted by some of the biggest contemporary names in today's Rum industry… A pleasure to witness! These are two brilliant days not to be missed if you are a lover of rum and its sub-culture! The show even has its very own panama shop!
One would think that two days of rum drinking and catching up with some old friends would satisfy my thirst; you would be sorely mistaken! After just a day of recovery, starts the ENORMOUS Bar Covent Berlin… When I say enormous, I mean enormous! Enormous in size, enormous in numbers of visitors, enormous in the sheer amount of seminars… An enormous amount of everything!
At the start of the show, you would be forgiven to think you accidentally got into the queue of some yuppie pop star's concert! One, because the queue was like everything about the show, enormous! (It is really quite amazing that our industry attracts so many people from all walks of life and from every corner of the world). And two -and this is a personal peeve- THE AMOUNT OF WAXED YUPPIE MOUSTACHE IS REALLY NOT OK!!! I understand that we are embracing a whole new culture of cocktail making focusing on the bygone era of classic drinks, but please… It is really not ok to have a waxed moustache when you are barely over the legal drinking age, and calling yourself a "mixologist" when you cannot have possibly been legally drinking for more than 18month! It REALLYREALLYREALLY is NOT ok! –Peeve is over now, back to the show!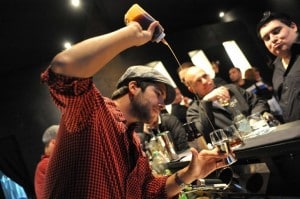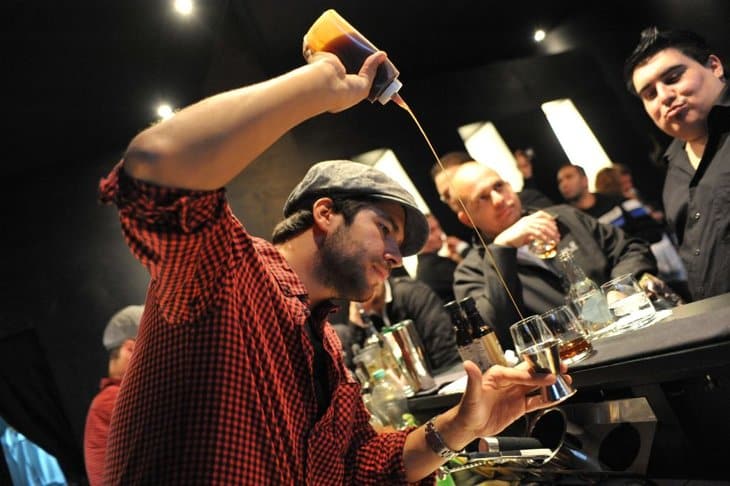 The redeeming features about the queue are the many G&T bars scattered along the way, ensuring that the waiting is somewhat pleasant –even under the rain. What could be better than tasting various gins and their tonic counterparts at 11AM?
Once inside this international drinking paradise, you are bound to find your fill! All of the bartenders you have been reading about… They are here. All of these new spirits you wanted to taste… They are here. These new bar toys you have seen on youtube… You can buy them here. That book you've been wanting to read for a while… Which language? There is something for absolutely everyone… Cocktail geeks, flair bartenders, beer connoisseurs and bar-toys lovers are all catered for, inside the show and in the evening gatherings. There is EVEN a Jägermeister mixology stand -which struck me as being a little peculiar, if not completely counter-intuitive.
While I spent two fabulous days sipping Negroni's, catching up with some old friends and mingling with some new ones, there was one theme that became somewhat apparent relatively early in the show: Gin! Gin was, without a shadow of a doubt THE star of the event… If anyone was unsure about this so-called gin revival, I can assure you that it has well and truly arrived. The numbers of new gins on display was astounding! Smoked gins, aged gins, sweetened gins (granted, not so new…) colorful gins, preposterous gins, gins with a HUUUUUUUUUGE amount of botanicals, gins with only a couple botanicals -I tasted a cardamom gin which, was quite fab! The list was endless, but not all of them were good.
All and all, it was an awe-inspiring trade show, very much gear at all serious industry professional. The seminars, the brands, the gear and the contacts that are possible at the BCB made this show one of the fundamental ones in Europe. I highly recommend it to anyone wanting to dig deeper in the industry and be exposed to international drinking trends and witnessing the very clean German bartending style. Four days that really left an impact, and four days that I will certainly repeat next year…