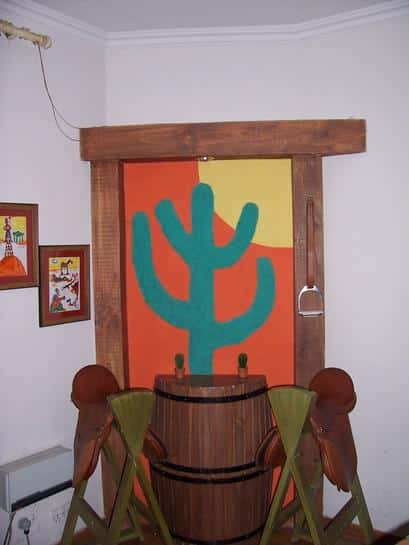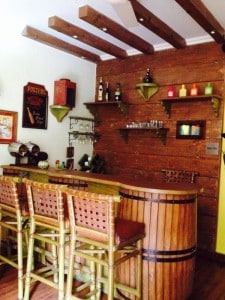 I bought my house a couple o' years ago. One of the criteria I was looking for when house hunting was to have a room other than the regular BHKs to be made into a full fledged bar room. I had been meaning to own a bar ever since I had seen Tom Cruise twirl those bottles and the Coyotes shake their daddy in those Hollywood movies. Sadly, the commercial economics of opening a bar in the Capital were forbidding, so I had decided to have my own private bar.
There are a whole lot of other advantages, as well, of having your own bar – it's a place where everybody knows you by name, you get to choose your company, it always plays your kinda music, there are no dry days, it doesn't close down, just when you are beginning to have fun, and you can never be the designated driver. Having found such a house and identified the room which was gonna be the bar – incidentally, it opens into the living room so is ideally placed, the first question was the theme of the bar??
Should I have it looking like a sports bar with neon signs and sports memorabilia? An automotive theme, perhaps, with hubcaps and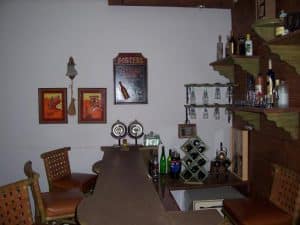 steering wheels? Or what about a retro look? I finally settled for the Wild West look. What was imperative was that the look extend itself into the entire room and not just in odds and ends and that the overall décor of the room should be such that every thing merged into each other and nothing really should be sticking out, screaming for attention. Now that wasn't really such an easy thing to do, considering all that goes into a bar – the bar counter itself, the seating, the lounge, the backdrops, the paintings, the lighting, etc etc, And then explaining it all to a carpenter – since I'm not from the trade, we didn't even speak the same language. Having finalised the theme, I started the painstaking process of moving it from my brain – first to a drawing and then on to the 3 dimensions. The flooring was simple enough – had to be wood.
Then came the counter, which was probably the most complicated item on the list. It needed beer kegs, and those are not available in India. So had to show a picture downloaded from the net, to the carpenter and it took 3 attempts before he could get the proportion right. Then came the counter top – all the available options – granite, wood, etc. – were either just too commonplace or didn't go with the look that I had in my mind. Eventually, while playing darts, one day, that inspiration struck – Cork!! However, it was easier said than done. Where does one find cork?? And is it durable?? And both of them were difficult to answer, since nobody I knew had ever used cork. Nobody was sure of anything. I went through all the markets in all parts of Delhi and was almost giving up on the idea, when I chanced across a sheet of Rubberised Cork, in a shop in Old Delhi. Apparently, its used as insulation and shock absorption in some kinda industrial equipment – and it was cheap – about Rs. 500 for a sheet and I needed just one and a half sheets for my counter top – 750 bucks for a counter!!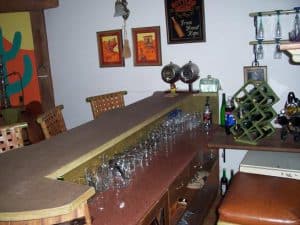 Trust me, it doesn't get any cheaper. I bought 6 sheets. I had thought that even if it lasted 6 months, it was still worth it and I bought 6 sheets, keeping in mind that I might need to change the top every 6 months or so, I'd still be good for 2 – 3 years. As it's turned out, it was a wasteful expense – Its been 3 years and the top has taken so much of abuse – spilled booze (including red wine!) and food, stubbed cigarettes, ladies dancing in stilettos – and I've not had the need to change the original top. The other 4 ½ sheets are lying unused in the garage.
Then was the upholstery for the bar stools – I wanted genuine horse skin for my stools.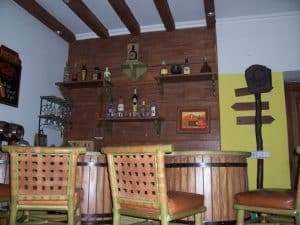 Didn't work. Just couldn't find it anywhere – apparently, they stopped flogging dead horses a long while ago. The closest that I could manage was – Camel Hide. I found it in a market in Sohna – near Gurgaon. There were two problems – camel hide is too pale and too rough. The man in the shop suggested that I dip the hide in a solution of Mustard Oil. I was a bit apprehensive but decided to try it out anyway. It worked!!! One week in mustard oil and the end result was a smooth, dark camel hide. Again, another shot in the dark that hit the bulls eye. Three years later, it still looks good and hasn't lost its colour. In spite of each seat having supported hundreds of derrieres of all shapes and sizes for hours at a stretch. And it still fills the room with the musky, earthy odour of leather.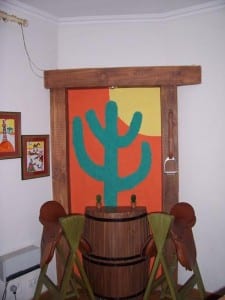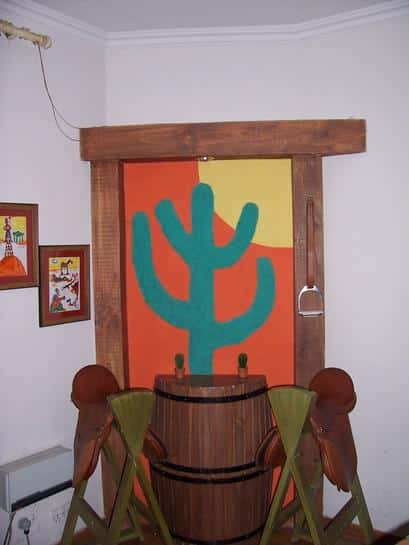 The saddles for the saddle-stools came from a Polo playing friend of mine. As did the horse shoes for the ashtrays. Incidentally, I gave the ashtrays as return gifts for the house-warming party. The wood for the wall paneling and the rafters were bought from a store in Kotla – it was the cheapest that they had and an interior decorator pal of mine was quite amazed by the fact that it hadn't warped in three years! The metal bindings, straps and hooks were made to order by one of those nomadic lohars (blacksmiths) who camp outside the Tara Apartments on the Alaknanda – GK2 road.
Next came the paintings. My friend, Shalini, at Creativegarh, introduced me to Sushil, who was probably the only one who understood exactly what I wanted, the first time around. I decided to do the murals myself – seemed simple enough – a cactus and a direction post – and for a change, turned out to be as simple as I'd thought it would be. What was quite remarkable was that the choice of colours that I used was almost identical to what Sushil had used in his paintings – even though we worked completely independent of each other. Obviously we'd read the same books and seen the same movies in our college days!!
The next was the toughest bit. Explaining to the painters why I wanted the perfectly polished doors sand papered and then just Waxpol-ed! Why I wanted the wood panels and rafters just waxpol-ed with a dark brown powder dye! Why I wanted the barstools just stained green. I'd give them specific instructions every morning before leaving for work and they'd show me something completely different when I returned in the evening. This thing went on for three days. The fourth day was a Sunday so I sat on their heads till they got it right. And so it was – after 8 weeks of head banging, that my bar was ready.
It was also the day, when an article I'd written on Single Malts appeared in the city supplement of one of the papers. It was also the day when we had our house warming. AT the end of it all, one of my venerable uncles took me aside and said " We all know of your fondness for booze. But do you have to advertise the fact to the whole world!!"
Vikrant Nath