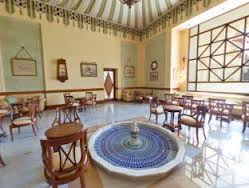 In 1930 the Jaipur Polo team was on the top of the world, after it made a clean sweep of major international tournaments. To commemorate their feats the Polo Bar was set up at the Rambagh Palace in Jaipur.
The Polo Bar as the name suggests, its dripping with polo memorabilia from every pore – trophies, photos of polo teams from daysbygone and the odd funny looking accessory. It has a small cosy bar at one end, almost like what you might have at your house, a nice pool in the middle, with water streaming in from a central minaret every few minutes (Reiki connection?). The Vodafone Sirmoor cup is on in Jaipur and funnily enough I see a photo on the wall from the Sirmoor cup.
Funny name, and Sirmoor turned out to be the name of a hill state in the Punjab. The Sirmoor Rifles was apparently one of the regiments which stayed loyal to the British during the 1857 War of Independence (note my political correctness).
To commemorate the 1857, I order a 1857 Bloodiest Bloody Mary, which had Absolut Peppar & Wasabi. This should be fun I thought! All in the name of science. I must also add, that The Polo Bar serves some great bar gratis, a 3some of Olives, Almonds and Cashew, with refills available. The steward also brought me a couple of complimentary canapes. The Jaipur Literature Festival was on, and there were some literary looking people in the room. Was that blonde in the corner Tina Brown?
The Bloody Mary when it arrived, needed a dash or more of Wasabi, which my steward gladly added, and it tasted just great. Worth every penny, the drink, the ambience, the history, the bar nuts…
The Polo Bar is a must visit, definitely one of the top bars in India.