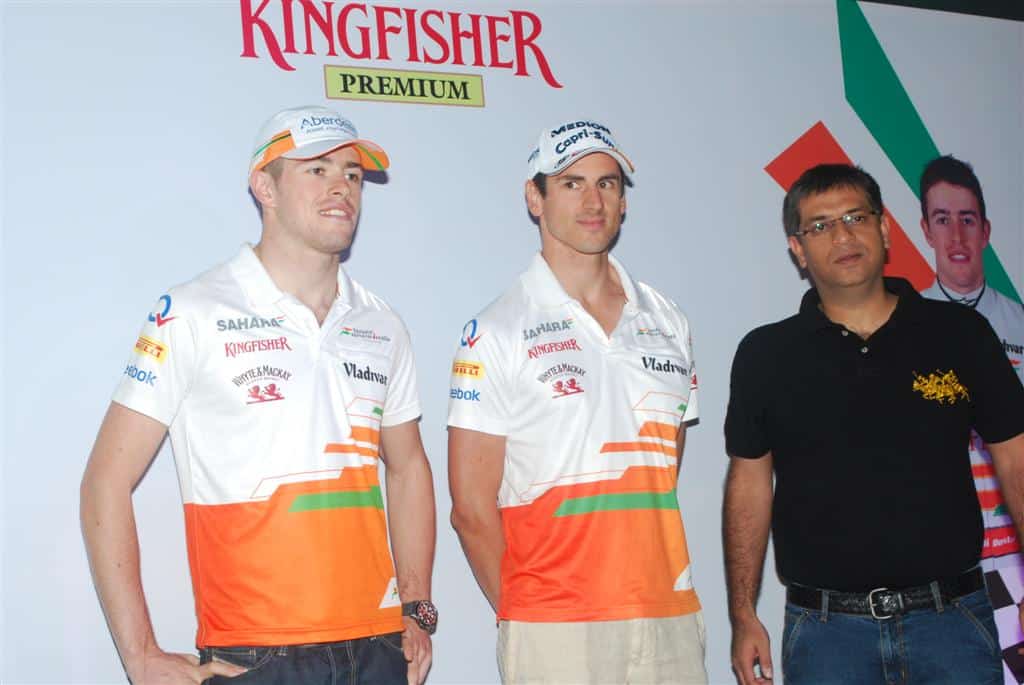 "Is this a pub or a tyre delearship ?" This was a casual comment made by a random visitor to Pebble Street on seeing a mock tyre wall at the entrance one Sunday evening – probably more than a decade back. Obviously, the one making this comment was not someone who knew much about how Schumacher made his millions or cared either. This particular Sunday evening, this gentleman was in a minority. Seated inside, were a bunch of some of the most vociferous and die-hard fans of F1, following their favourite sport on large format projection screens, rooting for their favourite teams and drivers. The pub was buzzing with a deafening roar of those mean F1 engines – pure music for the F1 aficionado.
Described above is a regular Sunday evening at Pebble Street, every time a live F1 race is on.
Rewind back to the year 2002. Watching sports at pubs was still not popular. Projection screens costed a bomb and pulling in a packed house for a game was unheard of. Commentary was a strict no-no and considered blasphemous for a restaurant. Even if live sport was being shown, the experience was probably watered down by Eric Clapton singing "Yes, you look wonderful tonight". Except that she would have looked even more wonderful had there been live commentary to enjoy the sport in all its glory. At least that's what I thought. I wasn't too sure if others thought the same way too. I was soon to find out.
Not wanting to give up on this thought, we decided to try and brand Pebble Street as the hub for F1 lovers. Our vision was simple. Create the best F1 watching experience in the city. We were not interested in frivolity around the sport. Our pitch was to the die-hard F1 fan. This entailed providing the best audio-visual experience and ambience (replete with tyre walls, flags etc) to avid F1 fans – we were still not sure whether that many existed in Delhi. As much as it was an honest attempt at providing Delhi-ites with a new experience, to be utterly truthful, it was also borne out, in some measure, by the fact that my wife hated the sound of F1 engines every Sunday evening at home. So I shipped myself out, clad in my scarlet Ferrari T-shirt, plonked myself on a bar-stool at Pebble Street, ready to guzzle those beers as fast as Schumacher negotiated those tricky chicanes.
Come Race Sunday, the projectors were powered up, the music was turned down, and the speakers belted out the roar of those 800 BHP engines. For a change, Eric Clapton lost out. From then on, a new genre of music took over Pebble Street every Sunday the race was on.
The creation of the F1 Fan Club was aimed at achieving two objectives :
To provide F1 lovers with a hub for enjoying the sport in its purest form
To provide Pebble Street with an opportunity to fill in crowds during the lean times. Normally races started at 5:30 pm and ended well before dinner time. It was a classic case of monetizing unsold inventory.
Challenges were aplenty in doing it the right way. The first few races saw only a handful of F1 lovers. While they enjoyed every bit of the experience, there were the regular diners who started to opt out owing to the loud ambience. The conflict was pretty evident – go back the traditional way and play Eric Clapton (thereby lose out on creating anything new) or create a new community who love life at 18000 rpm. We chose the latter.
There was no Facebook to create events, and Twitter was still just an idea. Thus, marketing such a niche sport was not as easy. We focused on word-of-mouth publicity and a targeted e-mail and sms campaign for visibility. In doing so, our guiding principle was to create an experience that F1 lovers would come back to. Once the experience was addressed, finding true fans was just a matter of time. From humble beginnings in 2002, our fan base grew to over 500 active members by 2003. Most races started drawing in a packed house. Schumacher being at his best, further fuelled the surge. F1 in Delhi was well on its way. Pebble Street soon became synonymous with F1 in the city.
Strategic promotional tie-ups with brands such as Red Bull, Fosters, Kingfisher, Shell and Malaysian Tourism, Auto Magazines and the like helped develop this nascent idea into a win-win for both – Pebble Street and the consumer.
Our success at marketing a niche idea made our competition jump on the band-wagon. Thankfully, most of them focused on creating frivolity around the sport by hosting Celeb screenings and soon died out. So while our competition was cosying up to Page 3, we played host to Narain Karthikeyan (India's 1st F1 Driver), Karun Chandhok (India's 2nd F1 Driver) and Armaan Ebrahim (a budding racer). To top it all, it was a proud moment when the Sahara India F1 Drivers – Adrian Sutil and Paul di Resta paid us a visit in 2013.
In the process, we managed to convert very many gentlemen and ladies who mistook the Pebble Street entry for a tyre shop some years back, into F1 lovers who prefer F1 commentary over Eric Clapton on some Sundays. As for me, I continue to perch myself on that bar stool every Race Day Sunday, guzzle my beer and sometimes get into heated discussions with fellow F1 fans over why Ferrari is better than Mclaren.
An alumnus of St. Columba's School and Shri Ram College of Commerce
Divides time between watching sport, guzzling the finest brews. running the occasional Half Marathon and overseeing operations at Pebble Street, Moksha and Cream of the Crop.