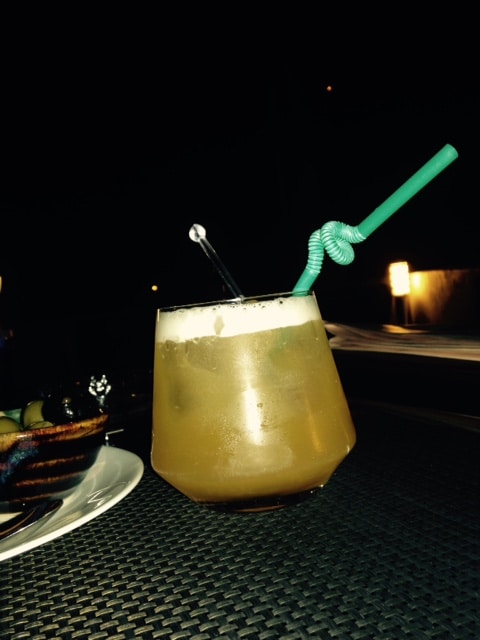 Dramz Whisky Bar
1580/1, Kalka Das Marg, Mehrauli, New Delhi, Delhi 110016
011 2664 6702
Google Maps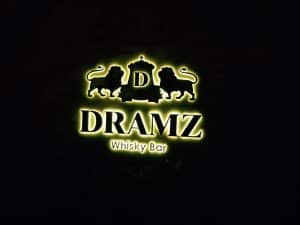 My plan was to go for a pub crawl in Mehrauli, starting at Olive's Dirty Martini and then carrying on to Dramz Whisky Bar for a night cap. Dirty Martini is however booked out for a private party, with the only option being 4 lonely looking tables on the terrace next to a rocking party. I decided that was not my scene, and seeing a board indicating that Dramz was 50 meters on, decided to keep my car parked at Olive, and walk down to Dramz, no easy task as there is no pavement, and every bus is in a hurry to get to Mehrauli terminal. I make it to Dramz in one piece, and walk inside. From the outside, Dramz resembles a really large bungalow.
On entry, I see a bar, styled as a whisky lounge on my left, with welcoming couches and a long bar stacked with hordes of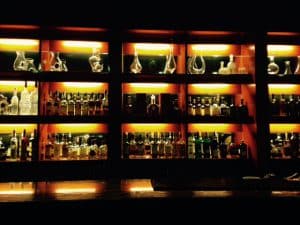 whisky bottles. It's really really empty though, and I can't stand the thought of settling into one of those couches, surrounded by all that whisky, it's more temptation than a man can take. I ask Amit Arora, the floor supervisor, if there's more to Dramz than this, and he leads me up 2 flights of stairs, to the terrace, where the real charm of Dramz unveils itself. Behind me is a Korean couple, so I'm no longer alone.
The steep walk is worth it, because at the end is a terrace with a heck of a view. If I had a stone, I'd be able to hit the Qutub Minar. Well I'm exaggerating a bit, but the Qutub, dominates the skyline from the terrace, and as planes bank around the Qutub readying to land, it's a beautiful sight.
I decide to start my evening with a whisky cocktail, and the only signature cocktail is one called Jack be Jamaican, which is what happens when an unwary bottle of Scotch whisky reaches the West Indies, only to find itself surrounded by orange juice, pineapple juice and lime juice. Priced at INR 575, I decide to leave myself at the mercy of the Dramz bartender. I relax and soak in some more of the view.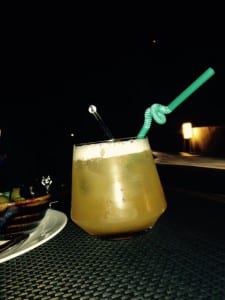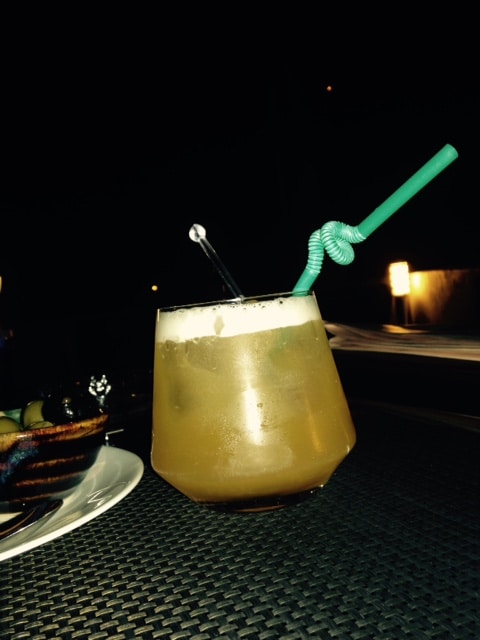 My cocktail is up pretty fast, accompanied by 2 heaped bowls of salted almonds and olives. A curly green straw in the glass looks a bit odd, as does the lack of a garnish, which no well dressed cocktail should be without. The taste of the cocktail was however splendid. The scotch whisky was shining through the maze of juices, and making it's presence felt, and combined brilliantly with them. The drink was well balanced, and if you're ordering it, make sure you tell them that you don't want it too sweet. Suspicious of so many juices, I told them that, and they took due care.
I decide to follow up my cocktail with a chota peg of Single Malt. The Japanese whiskies look well priced, but unfortunately are not in stock, so I settle back on a Glenfarclas 105 Cask Strength Single Malt. A superb whisky, it had been rated as "best bang for your buck" by the global whisky community Malt Maniacs back in 2004, and I was looking at getting reacquainted with it. The 105 is also believed to be the scotch industry's first commercially available cask strength single malt. I add a dash of water, and sit back on a perfect December evening in New Delhi to sip this liquid treasure. True to form, it doesn't disappoint.
If I only had the service, cocktails, whisky and surroundings to account for, then I've had a splendid time. But you go out to a bar, even if you're in a group to be amongst a crowd of sociable people, and on that front Dramz sorely disappoints. Perhaps as Amit tells me, Friday and Saturday nights are better to visit, and I'm upto giving it another chance on a weekend. So should you.