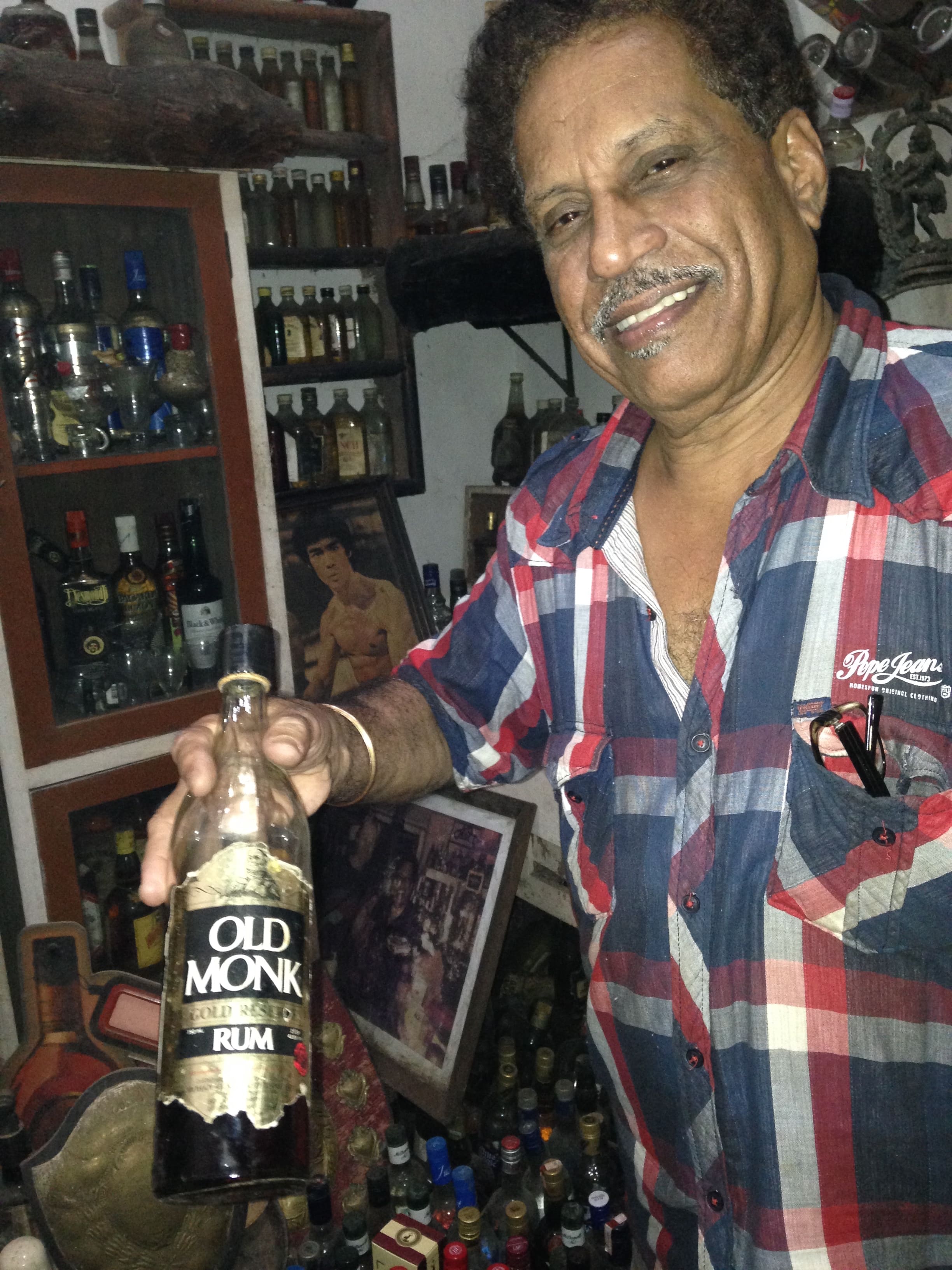 Day 2 was planned as a road trip, which with a visit to 6 bars and restaurants promised a state of satiation by the end of the day. What the hell, I thought to myself, I'm in Goa.
My first stop was SinQ in Candolim, a complex comprising a hotel, a nightclub and also Goa's first brewpub, run by the enterprising and irrepressible Amit Adatia. Amit's first attempt to market the "Beer Machine", (a self contained device to make beer at home in India), came a cropper, but he kept at it, until he was able to get the brewpub at SinQ off the ground, which uses the beermixes supplied by the Beer Machine company. Amit told me to meet up with Vance, and I was all set to meet a 20 something young American brewer, who wanted to "do" India, when to my surprise I met a grizzled veteran of the American beer industry, who was now exploring fresh pastures in India. Vance has settled in well to Goa, and much prefers it to his earlier stint in China. Although the Beer Mixes offer him a ready-made concentrate for brewing, he's tinkering around at a local level by adding fun ingredients. I sampled the Canadian Red Ale and the Honey Brown, and a bit of the Vienna (think it was an ale?), which was in a semi-ready state.
If you want to know what those are, you'll have to visit SinQ. If you can't make it Candolim, then hopefully in the near future, Amit will have more brewpubs running in Goa. A few samples down, I'd begun to feel hungry, so decided to pop in to the much-recommended Bomras, a Burmese restaurant down the road, where I made do with a prawns salad, and eschewed anything to drink.
Karan Upadhye from the Tulleeho FB group had told me that I must visit Bob's Inn in Baga, with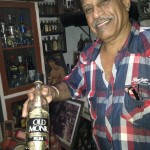 Bob having the distinction of opening independent Goa's first bar in 1962. I've always been a fan of history J, so it was off to Bob's for me. Easy to find and on the main road, it was fairly deserted, in stark contrast to most places in Goa, on a sunny winter afternoon. I settled in for a plate of prawns and a beer, and meanwhile looked around for Bob, who was easy to find. Well into my beer, I asked Bob, if he truly had begun the oldest bar in Goa, which he corroborated, and took me into a room, where it all began, strewn with hundreds of cobweb dusted bottles, some still with alcohol in them. I asked if I could have a drink from one of them, and pointed to a bottle of Old Monk, when he nodded his head. I went back to my table, and sure enough a shot of Old Monk was sent over, which seemed to have lost none of it's potency, even after god knows how many years in the bottle. Bob however was morose, as he was the last of the generation probably to run the bar, with his daughter clearly not interested in taking over. Maybe she'll have a change of heart, and keep a bit of Goan history alive for us!
Darius Anthony Miranda from the FB group, had recommended a visit to St. Anthony's Shack in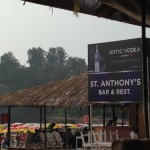 Baga, and with a surname like Miranda, that was advice I could ill afford to pass up. Baga was a mess however, a bit like Chandni Chowk on steroids, and I found St. Ant's easily enough, and settled into a table with a view of the crowded beach. The only redeeming factor was that they could serve me a chilled bottle of King's (although not on the menu), to accompany my plate of fish curry and rice. I beat a quick retreat from Baga, as I was off to what promised to be the high point of the evening, a visit to Thalassa in Mini Vagator, a Greek tavern, located on a cliff, and overlooking the beach. Thalassa offers 3 choices of reservations; lunch, sunset (5 to 8 pm) or dinner, and people in the know had advised me to opt for the sunset booking. Not much of a romantic, I found it difficult to understand, how one sunset could be different from the other, but I was keen on making a reasonably early trip back to my hotel, as I had one more halt to make on the return, so sunset it was. Thalassa was everything it promised to be, a glorious location, the company of friends, sinuous Greek (?) dancers, with slits as high as the eye could see, a chilled bottle of wine, and some toothsome canapés. Don't miss it, and any time is good!
For those of you who remember Part 1 of my escapades, I'd met up with Sabreen and Prahlad, chef / sommelier turned gastropub owners, and I was off to meet another such entrepreneur, Shawn D'Souza, one of India's legendary bartenders, and along with his brother, founder of Kudos, a pizzeria cum grill cum bar, and I was meeting him at the outpost in Baga.
Stuffed to the gills as I was, I still couldn't resist a few slices of Kudos's amazing Goan sausage pizza and a spicy Jalapeno margarita. Shawn seemed pretty content with the life of a restaurateur, and revealed to me his upcoming plans, with the next outlet, actually going to have a proper bar, a subject still close to Shawn's heart.
Stomach sated, and feeling uplifted by all the amazing people I'd met through the day, who were helping make Goa the great place it is, I set off towards Panjim.