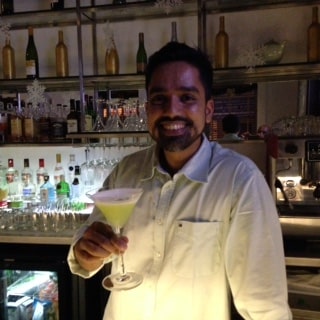 A cry for help to the Tulleeho FB group, brought forward a flurry of suggestions, and the one and a half free days I had in Goa, before my alumni reunion took over, seemed too short to make ends meet, but you have to live with what you've got. My first stop was well timed as I landed in Goa just around lunch, and had kept my appetite well primed, with the temptations (or lack of them) of an Indigo in flight menu, easy to avoid.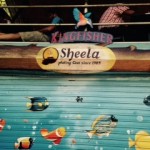 A deal was struck with my Panjim bound taxi, for a lunch stop over at Sheela's bar and restaurant, which came highly recommended from Elvis Dias, who said "Please don't analyse the name. Be careful u can miss it. No prominent signboard. However he has the usual bottled beers including Kings but some of the best authentic food in the whole of Goa. Simply awesome. Ask for Sylvester the owner. Interesting philosophy. The bar has no menu card. He says you got to know what we are famous for."
My driver however was well aware of Sheela. A single story building with the restaurant on an open balcony overlooking the bay, I was there in a trice, and settled at a table. To my dismay, however they had no Kings beer, so I settled for a regular brand of lager and decided to satisfy myself with a hearty (and heavy lunch), comprising of a platter of prawns followed by a plate of fish curry rice. Spotting a man walking around with a proprietary air, and whose belly indicated the good life to an extreme, I asked him if he was Sylvester, which he confirmed. I told him about Elvis's comment that you had to know what to ask for and he laughed it off, by saying I'd already ordered two of their specialties, but he would recommend if I came in a group to try their Goan sausage pulao.
On to Panjim and after checking into my hotel situated right next to the Panjim church, one of my first calls was to Desmond Nazareth, one of the most innovative entrepreneurs working in the alcobev space in India, who calls Panjim his home. Des's house was situated in Altinho, and about a 15-minute walk from where I was, mostly up a hill, so after a brief rest, I braved the fading sun in Goa, and walked up to his house, in an attempt to digest my lunch. Des has a wide and varied bar, including some excellent Feni made by a friend of his, purely for the consumption of a small group of friends, who buy it by the caseload. I decide to start with some Urak, which is the first distillate of Feni, and Des mixes this up with some lime and soda, and we retire to his balcony to chat about matters alcoholic. As the owner of the eponymous Desmondji, Des has been responsible for some amazing products, and you can read about their origins here.
My experiences with Feni in the past have not been great to say the least, and I often wonder why someone can't make a Feni, which is less pungent, and fortunately Des's friend's Urak does the job, and in fact makes for a very pleasant sundowner, which I down in short order. The term "skunkworks" refers to ongoing development projects being run by companies, some of which might see the light of day, and the joy of visiting Des's house is being exposed to products he's tinkering with. He pours one such drink for me, and swears me to secrecy. All I can reveal is that it has a taste, which quite resembles Cognac or Armagnac. Des is awaiting sanction to start producing the same at his distillery and is going stir crazy in anticipation, because the product has considerable potential. I also pick up a bottle of Kings from his fridge, which I drink side by side, as this is a rite of passage I enjoy, when I visit Goa.
Des gives me a couple of bottles to take back, a bottle of the Desmondji cane rum to take back to Delhi and a bottle of his 51% Oak finish agave spirit to enjoy at my alumni reunion party. I drift back down the hill in a mildly alcoholic stupor, and hope that a speeding scooter doesn't put paid to my Goan adventure. On the way back I stop off at Casa Baretto, run by Milton Baretto, an excellent liquor retail shop, and pick up a bottle of the Paul John Edited, a single malt made by John Distillers, and available sparingly. Paul John has two variants, and Milton recommends the Edited, which at 46% promises to be a flavourful treat.
Prahlad and Sabreen Sukthankar, are both hospitality professionals who have spent large parts of their professional life overseas. On their return to Goa, they found something lacking in Goan nightlife. What resulted is Black Sheep Bistro located at a 10 minutes walk from my hotel. On my walk there, I stop off, at but naturally, another liquor shop, where I pick up 2 bottles of Cazulo's cashew feni. BSB is a lovely little gastro pub, with a great layout. Upfront is a welcoming bar, with bar stools lined up by the bar, and by the window, tables to seat 2, just perfect for a couple. A room on the side and one at the back, make up the main body of the restaurant.
The menu is minimalistic, with as you'd expect from Prahlad's sommelier background, a well put together wine list, and a short but interesting cocktail list, including the interestingly titled Pecore Negrino, or the Black Negrino, a signature cocktail for BSB, where the Cazulo Feni replaces the gin. The food menu has a series of small plates, and I tuck into a couple of selections, as Prahlad whips up a Pecore Negrino for me. It's fascinating as a trend to see an increasing number of restaurants being opened by people with an intimate knowledge of food and beverage service like Chefs / Bartenders / Sommeliers. It counts a great deal for the atmosphere generated by the place and the people who work there, and BSB radiates this.
I chat with Prahlad a while and Sabreen also joins us. A friendly couple, they're keen on promoting local produce, which includes drinks, which accounts for Cazulo Feni and Desmondji featuring in their cocktails. Day One is done, and I'm looking forward to tomorrow, cause new Goan drinking adventures beckon.