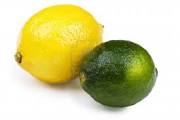 For this month's rambling, I thought it would be good to leave you with some tips on buying / selecting fresh fruits for your next cocktail gig. After all, who would mind the goodness of fresh ingredients in their drink? Here's my list.
Lime: These are what you get to buy readily with your local sabji wallah. Look for ones that are about the size of a ping pong ball, green in colour and firm. Best used to make a mean Mojito, or to bring about sourness in a classic Margarita or Daiquiri or a glass of nimbu paani.

Lemon:
Large and yellow. Mostly imported into this country. Look for ones that feel firm and even. Classically used for cocktails that call for gin or vodka and in some cases cognac. A classic Gin & Tonic is garnished with a slice of lemon. Not lime. Or for that matter Campari & soda.
What is the fuss about using either, you may ask? Both limes & lemons yield juice that is very different from each other. Lime juice is pungent, vegetal, has a slight bitter aftertaste and is very tart. Lemons on the other hand are more aromatic, almost floral, the juice is less tart with a slight hint of sweetness. So the next time you come across a bar book that calls for lemon juice in one recipe and lime juice in the other, think twice before substituting one for the other.
Pineapple:
A wonderful tropical fruit that makes for great tasting tropical drinks made with rum. Used in the classic Pina Colada cocktail and a host of other drinks. Look for one that has turned into a bright shade of orange with specs of green on the ridges. You should be able to cut into it easily. Best used for drinks that require the fruit to be muddled to extract flavours or blended with ice and alcohol in a blender.

Banana:
Your quintessential breakfast fruit that has suffered in popularity due to an over familiarity of taste amongst consumers. Who the hell wants to pay for banana's when you can have acai berries from Brazil, right? Here, too, look for fruit that has ripened to the stage beyond which it will deteriorate if left for another day or so. Excellent when used along with rum or a coconut liqueur like Malibu. Muddle or blend. Be sure to strain well if you opt for the former technique.

Mango:
One really doesn't need to be advised on how to buy mangoes! However when using them for making drinks, use very ripe ones (duh!) and better still prepare a puree blending the fruit first and then sieving it to take out the fine fibres. Now use this along with tequila to make a fine mango margarita or rum to make a similar daiquiri or even with yoghurt to make lassi!

Apple:
Red or green? The former is easier to use! Look for fruit that is smaller in size instead of the ones that look large and glossy. This is one fruit that you should never judge by its cover…or skin! A bite would be better. While using the green version, be mindful of the fact that the fruit wont be sweet and your recipe will have to be balanced with a touch of sugar. Both types work wonderfully well with spices. Red apples work brilliantly with cinnamon and clove whereas the green one takes to vanilla like a breeze. Choice of alcohol could be anything including whisky!

Herbs:
Often the most misused, abused, overused, hardly used etc. ingredient behind Indian bars. The critical thing to remember is that herbs are about aroma first. Taste follows naturally. Muddling mint in a Mojito with an idea to flex your muscles will hardly make for a great tasting drink. Leave that for your mum and her prized chutney's! Just take a handful of leaves and slap them a couple of times in between your palms. And while doing it you can feel as kinky as you like. Same goes for basil or rosemary in a drink.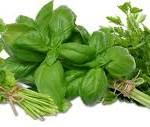 (Note: Muddling as a technique needs the right amount of pressure and force that is required to extract flavours and not pulverize the ingredients)
I think this should get you started on a path to attaining cocktail supremacy amidst your peer set. And you can always throw in a bit of your new understanding of fresh fruit jargon while doing so. Nobody would really mind your loud mouth as long as the drinks taste good.
Happy tippling.
Tulleeho!