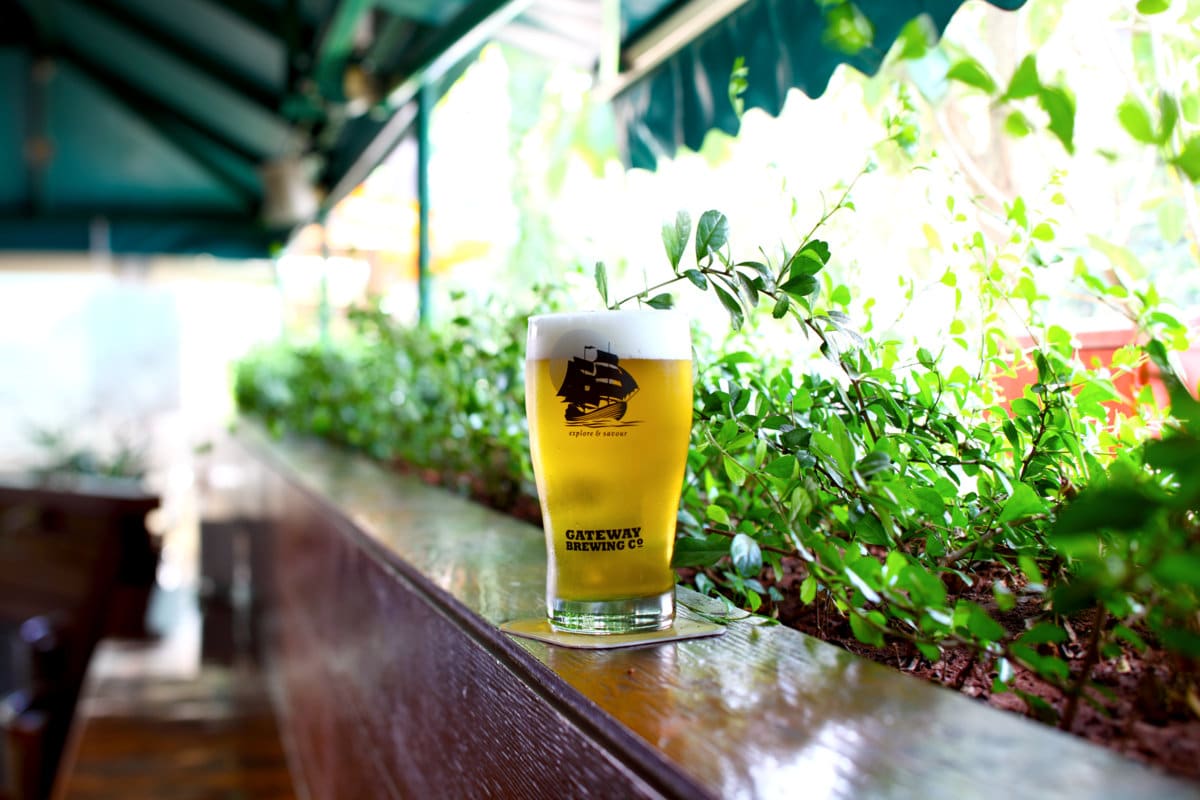 Gateway at Bonobo
2nd Floor, Kenilworth Mall, Phase 2,
Off Linking Road, 33rd Road, Bandra West,
Mumbai
022 2605 5050
Don't go by appearances. The roads dug up and a mess, the hawkers are teeming around, and next to the Bonobo sign on the rooftop is the outline of a water tank and a satellite dish. Certainly not the best omens for a rocking bar to visit. 2 flights up, however the situation is transformed, and you get an open, buzzing rooftop, with a long bar down one side, and seating scattered around under the stars, with a "party hard" soundtrack on. Bonobo has been around for a while, and its good to see a bar sustain. They must be doing something right.
And one of the things they're doing right is the reason we're here, to taste Gateway's craft beer. Navin Mittal, the beer geek and co-founder of Gateway Brewing Company, pointed us in the direction of Bonobo, when we asked him for good places in the neighbourhood to buy his beer.
The Gateway 3 headed tap is a prominent fixture on Bonobo's bar counter, and we see quite a few people with brimming beer glasses in front of them. A taster sized portion of the Doppelgänger, the White Zen and the West Coast IPA (India Pale Ale), help us decide our starting order. A pint of the Doppelganger for me to start with and the White Zen for Sweta, with some bite sized snacks to accompany.
I love the full bodied taste of the Doppelgänger, which is inspired from a classic German dunkelweizen (dark wheat) and this is definitely a beer which I could have 2 to 3 of in the course of an evening. The White Zen is a play on the German word Hefeweizen, which is their classic style of wheat beer. Regular wheat beer and dark wheat beer have worked very well as styles for imported bottle beers and are a smart choice for Gateway's first brews. Gateway's third beer is a West Coast IPA (India Pale Ale), a rare category of beer which owes it's parentage to India.
Back in the days, when Great Britain held sway over India, the Britishers in India needed their beer, and regular beer shipped over from the UK, lost its zing on the 12,000 mile sea journey over. So the then beer geeks came up with the India Pale Ale, which was brewed with higher gravities and hops content (Hops are plants whose cones add aroma and flavour to beer; and in the case of IPA, protect it from infection.). In fact a Britisher called Pete Brown, recreated the sea journey taken by the original IPA and compared it with a batch which was flown over to see if the sea beer passed muster.
Back to the West Coast IPA, which owes its origins to the USA where the West Coast IPA is a well recognized style. I find the beer a little on the bitter side, but I'm willing to give it another chance the next time I'm back. I recommend it to a visiting friend from Delhi, who loves his IPA, and he pronounced it as "the highlight of his Mumbai trip".
My colleague, Sweta on the other hand loves her White Zen, and follows it up with a Doppelgänger.
In conversation the next day with Navin, he reveals that they plan to introduce 1 to 2 new styles shortly, so a Porter or Stout could be on the way, and it would replace one of the 3 beers on tap. Loyal fans of the displaced beer will have to wait till it's back on tap, and in the craft beer industry, sometime creating this scarcity, is a great marketing ploy for brands.
Marketing ploys are however the last thing on our mind, as the last sip of my IPA goes down my grateful gullet. Gateway has forged a difficult path on its way to being India's first microbrewery, which doesn't have it's own bar, but instead supplies it on tap to bars across Mumbai. Search them out when next in Mumbai, you won't be disappointed.