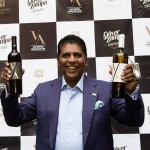 Tennis as a sport is not without it's share of TLA's (three letter acronyms!) and back in the day, they used to be known as the ABC of tennis, B for Bjorn Borg, C for Jimmy Connors and A for none other than namma Vijay Amritraj, tennis star. As Kapil Grover said in his witty introduction to the launch of the Vijay Amritraj reserve collection launched by Grover Zampa vineyards, the wines we were drinking today, were the result of a journey that took 7 years and we're truly fortunate that the wines
"have turned out silky smooth like his backhand, and not erratic like his forehand!".
With the launch of this wine, Vijay also joins the rather short list of sports personalities with their own wine labels which includes Ernie Els and Greg Norman. And of course as a movie star in his own right (remember Octopussy), he's also got George Clooney (Casamigos Tequila) and Bruce Willis (Sobieski Vodka) as company! Grover's tell us that the star tennis player is not only endorsing the brand but has worked very closely with the team at Grover's in developing the style, quality and even the design over the last couple of years.
The global launch took place earlier this year at the Taj, London, with a tennis theme, as Wimbledon was on at the same time, and we were present recently at the Delhi launch on a balmy October evening under the stars on the Terrace of the Leela Palace Hotel.
We started the evening with a glass (or 2!) of the Grover Zampa Soiree Brut , a delightful sparkling wine (priced at INR 1000 in New Delhi) and then moved on to The Vijay Amritraj Viognier Reserve. The perfect balance between the floral and fruity aromas of this one got me excited for the taste. The honey and apricot with a lingering taste of peach made for a good rich and powerful barrel fermented wine which had been aged on lees for about 4 months. Overall, in my opinion it lacks some acidity to hold the wine together. With its off dry sweetness this wine can be a good match for lightly spiced Indian dishes as well as creamy cheese or fruity desserts and is available in Delhi retail for INR1200.
As the band played under the stars, we spent our time snacking away, and sipping at our wine, while we caught up with friends and professional acquaintances.
As a practice I save the best for the last. Very hopeful about the Vijay Amritraj red reserve I asked for a glass and was very happy to hold it as I hadn't been served a red wine at the right temperature in a very long time. This blend of Cabernet Sauvignon, Shiraz and Viognier presented aromas of black fruits and sweet spices up front. The taste of the wine didn't vary a lot from the nose to the palate with pronounced flavours of blackberries, black cherries and plums and a hint of spices like pepper. The tannins of this one were soft and well integrated which in my opinion is due to an year long ageing in French Oak Barrels.

I would personally go in for some Indian style kebabs with this one or a mildly spiced mutton curry holding on to very spicy stuff due to its 14% alcohol percentage. Overall I think this is an excellent wine available for just INR1200 a bottle in Delhi retail, but do remember to serve it at the right temperature, which would be around 18 degrees celsius.
The Grover Zampa Vijay Amritraj reserve collection is already available in Karnataka, Maharashtra, Delhi and Gurgaon and will soon be available in Goa and West Bengal.
Here's wishing them all the success.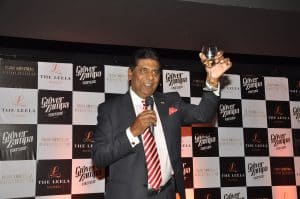 Tulleeho!