I'm sitting with Rajeev at Sula's new offices in Lower Parel.
One thing you'd like to change about the Indian market:
The Extremely high taxes. Every year, most levies imposed keep climbing higher and higher, and it's sad because it's really stunting the market. You're always going to have in India, a much smaller number of wines available, because of the taxation levels and structure.
Who do you think sets drinking trends in India?
Very difficult to pin point and say, because the category has become much bigger than before. I also think you're reaching a stage where the consumer is far more confident of his / her judgement. And then you have social media, which turns everything upside down. There are a few tastemakers at the very high end, Dhruv Sawhney comes to mind. If at the middle end, then the gatekeepers are probably the F&B managers.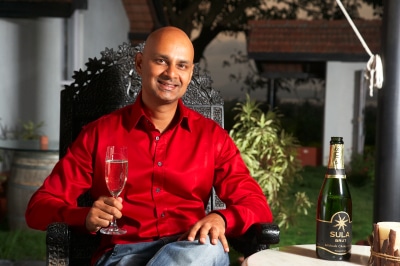 What according to you is the most overrated drinking fad / drink in India at the moment?
Everything is such a nascent category right now, so it's hard to say. Probably the most under rated category is Gin. Possibly vodka is getting a disproportionate share of voice, considering that it's a tasteless beverage.
Which is your favourite beverage brand ad campaign?
Everything Absolut did. The Johnnie Walker tag line – Keep Walking. In the Indian context, Blender's Pride definitely, with Priyanka Chopra's ad campaign, has had impact.
Which is your favourite Bar in India and why?
Vinoteca at the moment! Before Vinoteca, more than 6-7 years ago, it would definitely be Indigo. In Delhi, I'm partial to the bar at Smokehouse Grill and in Mumbai, I often hang out at Olive, Bandra. I like Dome also at the Intercon, Marine Drive, Mumbai.
One fictional character that you'd like to share a drink with?
Don Quixote. That probably would be a wild conversation.
If you were stranded alone on a deserted island, what's the one drink that you'd long for?
It's probably going to be hot, so red wine wouldn't be my first choice. In terms of wine, I would probably choose a really nice Riesling. And then there are some high end gin cocktails, I really enjoy, possibly a Cucumber Martini, because I like my drinks a little bit sweet, not completely dry. I could also live on the Pomegranate Martini for a while.