Tulleeho Does your Campari deal include India as a market where they have distribution rights? If yes, are we likely to see Bulldog in India in the near future? If not, are you still planning to enter the Indian market?
Anshuman I am very eager to launch BULLDOG in India and it means a lot for me to have the product available in my home country. We are aiming to launch in both India domestic market and duty free in Q1 2016. And yes, Campari will be handling our affairs in India as well.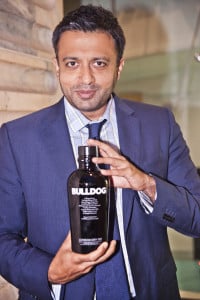 Tulleeho Your Asian influences are more from China than from India, (apart from Cassia). Did you consider any uniquely Indian botanicals during your exploratory processes?
Anshuman The botanicals in BULLDOG were inspired by my early travels as the son of a career diplomat. I started out exploring 48 different botanicals (including some from India) but after working with our master distiller, ended with an exotic blend of 12 botanicals from eight countries, creating a smooth, harmonious, citrus forward flavor unique to BULLDOG. Given that I'm 100% Indian, I figured that was enough 😉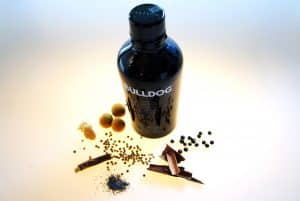 Tulleeho We commonly associate Sir Winston with Champagne, more than gin. Any clue if he was a gin drinker? What brand he drank? In what mixed form do you see him enjoying Bulldog?
Anshuman Our namesake is drawn from my childhood hero: Sir Winston Churchill – the original "British Bulldog" and the "Bulldog spirit" he embodied – who happens to be as defiant, confident and rebellious as they come. I'd say Sir Winston Churchill would drink BULLDOG on the rocks with an orange zest. BULLDOG Gin captures the bold confidence and relentless spirit embodied by Sir Winston Churchill, and there is nothing more bold and confident than ordering a BULLDOG on the rocks. He definitely drank gin (and virtually everything that contains alcohol!)
To quote Sir Winston himself,
"The gin and tonic has saved more Englishmen's lives, and minds, than all the doctors in the Empire."
Tulleeho Your bottle design is quite unique and beautiful. Who designed it? Could you shed some light on what the design inspirations were for the bottle shape? Any other unique features regarding the bottle / label?
Anshuman The bottle was designed by Agent 16 in NYC. They are no longer around. The #1 priority was that the bottle/copy/packaging had to be super-premium, stylish, modern and iconic – to reflect the brand image. I wanted a bottle that was very distinctive to all the other premium gins and wanted to stay as far away from the traditional, old school, Queen Victoria image that the other brands seem to play so much. I originally contemplated a transparent bottle but noticed that it got lost on the bar shelf. So, I used a deep charcoal black color with deep purple hues (my favorite color) and we chose to silk screen rather than apply a label to maintain the premium image.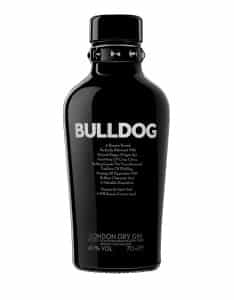 There was also no question that the bottle needed to be as distinctive as the liquid. I wanted an iconic bottle that would catch the eye of every consumer at the bar.
Tulleeho On a visit to St. George Spirits in 2013, I picked up a bottle of their Dry Rye Gin, and am a massive fan of the same, especially when mixed with tonic. Did you consider Rye as a base for your Gin?
Anshuman My number one goal was to produce a product and liquid that would defy the gin category by making it more smooth and mixable. In order to attract the vodka consumers of the world, rye was never a consideration for BULLDOG. I am sure it is quite interesting, though! I prefer wheat personally 🙂
Tulleeho Could you confirm that Bulldog is the fastest growing premium gin in the world (for brands selling more than 50,000 cases)
Anshuman Between 2009 & 2013, BULLDOG has shown an annual growth rate of 165%; the highest rate for any gin above 25,000 9L case volume in that span as reported by IWSR. Our rate is probably around 40% in 2015/2016 and we're well north of 100k cases, so yes, we are the fastest growing in (premium and standard) in the world
Tulleeho I'm quite fascinated by the story of how Martin Miller Gin comes into being. I also recently came across Seven Fathoms Rum, which ages their barrels underwater. The latter two no doubt make for great marketing stories, but do you think these are gimmicks or do process innovations help contribute to significantly different tasting products?
Anshuman Each product has its own unique processes that add to its character. With such a saturated spirits market, brands are constantly innovating to stand out amongst competitors. I'm not too familiar with the products above and their stories, but I always support entrepreneurs who take the leap and create products
Tulleeho Any more products in the pipeline? Would you consider straying outside of Gin or only focusing on Gin?
Anshuman It is such an exciting time for gin right now. The gin wave is in full force in Europe and starting to hit South America, MEA, and Asia-Pac. I won't focus on anything else until BULLDOG is on every single back bar in the world! "One brand, one dream!"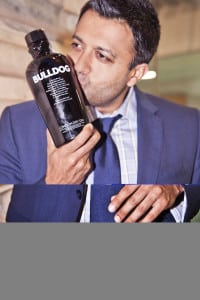 Tulleeho What's your desert island drink?
Anshuman When I am not drinking BULLDOG & Tonic, my go to drink is coconut water. I like maintaining a balanced lifestyle and drinking fresh pressed juices.