Must Have It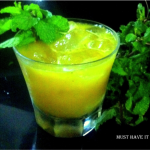 Created by Tulleeho for Barbeque Nation
Ingredients
Mustard – 1 bar spoon
Litchi juice – 150ml
Monin Caramel – 25ml
Lime juice – 20ml
Garnish – Mint sprig
Preparation
Add all ingredients in a shaker with ice and fine strain in an ice filled rocks / old fashioned glass.
Khus Smoothie

Created by Tulleeho for Dana Choga Kitchens
Khus syrup – 60 ml
Plain yoghurt – 60ml
Water – 60 ml
Cracked ice
Preparation
Blend all ingredients with ice until smooth.
Jasmine Orange Tea

Created by Tulleeho for Real Juices
Ingredients
Jasmine Tea – 1 tsp
Orange Peel – 1 no.
Real Orange Juice – 150 ml
Jasmine Flower – 1 no.
Preparation
Infuse jasmine tea with hot water and let it brew for 3 minutes (60 ml water) then add orange zest into brew and bruise it nicely to get oil of orange zest, add ice into glass and top it up with orange juice. Garnish with a jasmine flower on rim.