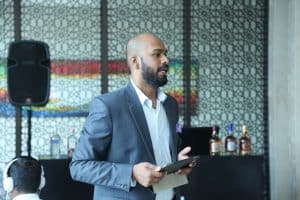 A hospitality graduate, with additional qualifications in business administration and bartending, Madhu has pursued the Level 1, 2 and 3 courses from WSET (Wine & Spirit Education Trust), London.
Madhu's prior experience includes working with The Westin, Hyderabad, Southern Sun, Abu Dhabi and Fairmont Palm in Dubai.
He has imparted beverage training to several F&B personnel from various organizations in the field of Wines, Beer and Spirits. He has also conducted several trainings for various hospitality clients in the field of Mixology and has contributed in developing cocktail recipes for various bars and pubs in the country.
Apart from training professionals in the field of beverages Madhu has conducted numerous sessions on Mixology and Wine and Whisky appreciation for consumers and corporate houses.