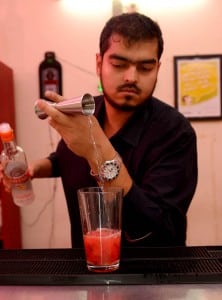 Hemant is a graduate in Hotel Management; he also completed a professional bar tending course at Mumbai's Cocktails & Dreams in 2009. Followed by which he hopped onto a career of bartending with International chain JW Marriott, Mumbai. During the three years spent, he was part of the beverage development team, and was responsible for menu planning, training, promotions and ensuring proper coordination between the hotel's bars. Hemant is known for his people skills; a conversationalist, enthusiastic and confident. Apart from this he also has great marketing skills, is very innovative – always thinking out of the box. He loves to experiment with local ingredients to create drinks that are extraordinary. He is known for his passion for beverages and Mixology.
Hemant is also the in house mixologist and trainer at Tulleeho and has conducted a wide range of training programs and master classes at hotels, restaurants, bars/pubs, hotel management institutions, corporate and for consumer audiences for brands such as Cointreau, Absolut, Artic vodka, 100 Pipers whisky, Angostura Bitters, Black Dog whisky, Twinings teas, Brooke Bond teas, Indus Pride beer, Jose Cuervo tequila etc. in Bangalore, New Delhi, Chennai, Hyderabad and Goa.
He has also developed signature cocktail recipes for liquor brands such as Ballantine's , 100 Pipers, Absolut/Flavors, Kyron brandy, and for restaurants/bars like F Bar, Turquoise Cottage, Spice Curry, Over the Moon and Barbeque Nation.
Hemant is currently the lead trainer at Tulleeho Bartending Academy, Bangalore.