If I wasn't making wine, I'd be… :
I don't know! I think I have found my passion quite early on, and am very grateful for that!
Favourite fruit apart from grapes, I'd like to use to make wine from… :
I don't really like wine made from other fruit. In any case- the dictionary definition of wine is alcohol produced from grapes.
Favourite perfume / cologne is… :
This changes every year almost! Last year it was CK in2u, and currently it is Miss Dior. Tomorrow, who knows!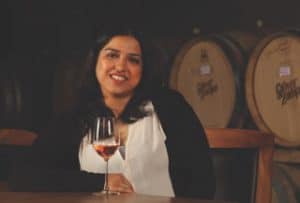 Favourite wine region in the world is… :
India! California is also very dear to me, as it is where I studied and learned a lot of what I know.
As a wine maker my number one asset is my… :
Passion.
I'd like to see my wine drunk by… :
Everyone. I think wine is an enjoyable drink that often gets lost under all the ceremony.
Something a wine maker should never do is… :
Close their minds to trying new wines- learning. It is a lovely industry to grow in, and one should never reach a point where they know everything.
My wine making mentor is… :
Michel Rolland. He was one of my main influences to even join the industry.
My desert island wine is… :
Champagne! Veuve Cliquot.