If I wasn't running a bar, I'd be… An author. Actually, I am an author. So, maybe I'd be a writer for Lonely Planet.
My bar's name is PCO because … PCO, which is a double entendre. Not only is it a reference to the PCO booths (we have a phone theme running through the bar), it also stands for Pass Code Only, as you need a pass code that keeps changing to enter the place.
I love customers who…Order the lamb burrito
Customers who are drinking too much should be …Cheers'ed to! As long as they don't get behind the wheel of a car.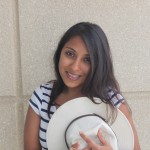 I'd like to have a drink with …Woody Allen
I value a bartender who…Is creative, has confidence and loves speaking to his guests. And, of course loves nothing more than being behind the bar.
The nightlife in New York is the best in the world because….. between the hours of 8pm and 8 am you can: start your night at a tapas bar, move on to a jazz club for great cocktails, hit up a nightclub or two, go grab a bite to eat, and still find some super secret "after hours" scene you can find, if you're up for it.
The happiest person in a bar is …man (or woman) who makes the drinks and watches someone else enjoy them

Tulleeho!