International Beer Day was celebrated on August 7th. For us, every day is Beer Day however. Here are 3 cocktails to help along.
Michelada
Originally a sort of beer-lemonade rumoured to have been invented by one Michel in Mexico, the Michelada eventually had other sauces and condiments added to it resulting in the spicier recipes of today. This is one version.
Ingredients
Lager beer 1 pint
Lime juice 10 ml
Worcestershire sauce 2 dashes
Soy sauce 1 dash
Tabasco sauce 1 dash
Black pepper a pinch
Salt a pinch
Ice to fill glass
Lime peel to garnish
Preparation
Build the drink in the glass by first adding all the ingredients except the beer into the glass over lots of ice. Then add the beer, stir gently, garnish with the lime peel and serve.
Narangi

Beer and orange is a delicious combination. We have made it even tastier with the addition of Cointreau and fresh mint. You may never want to drink plain old beer again!
Ingredients
Lager beer 1 pint
Cointreau 30 ml
Orange slices 3
Mint leaves 5-6
Preparation
Gently muddle the mint leaves in the glass. Add the Cointreau and top with beer. Toss in the orange slices, serve and savour.
Black Velvet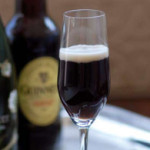 This classic cocktail was first created by the bartender at the Brook's Club of London in 1861, to mourn the passing of Queen Victoria's consort Prince Albert. It was supposed to symbolize the black armbands worn by mourners. You no longer need a reason to mourn to enjoy this drink.
Ingredients
Guinness stout 1 can
Champagne 1 quart
Preparation
Half-fill the glass with the Guinness. Now gently float the champagne over it by sliding it down against the inside of the glass. Serve immediately.
All recipes, courtesy, the Tulleeho Book of Cocktails.