Where does she work: The Oberoi Hotels and Resorts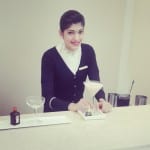 My favorite cocktail (and why): 'The Bathtub' this cocktail is my take on the prohibition era of cocktails, this creation also gave me the opportunity to win the cocktail competition at The Oberoi Centre of Learning and Development. The intention behind naming it something unusual was the fact that when prohibition struck, alcohol enthusiasts were making spirits illegally, and 'gin' was mysteriously made in bathtubs, I certainly cannot vouch for the quality though. The cocktail has Herb Spiced Gin, Cointreau/ Grand Marnier, Framboise, white of egg and lemon juice the serving ritual has homemade bitter caramel candy and oranges with brandy snaps.
Craziest thing a customer's ever done: One incident that will not fade away any time soon, was last year whilst I was training at The Oberoi, Amarvilas, Agra, where the Bar overlooks the spectacular panorama of Taj Mahal making any experience a memorable one. Though this guest was with his fiancée celebrating Valentine's Day with the perfect setting of the monument of love in the background, he was pleased with the service I gave behind the bar, also had an amazing conversation with the adorable couple, I was satisfied that my guests were in good spirits but to my surprise the couple mysteriously stepped out brought a beautiful gift from the souvenir shop in the hotel, and presented as a Valentines gift for the bartender that made their trip to India extraordinary, it was beyond expressing how special they made me feel.
Best tip I've got: I can recall the time I was on Industrial training in Madinat Jumeirah, Dubai, A Russian event had taken place, I remember getting gratuity worth 1500 AED by a lady who was more than tipsy, shockingly it wasn't for the drink I fixed for her, but she announced the tip was for the smile I gave her.
If a customer offers to buy me a drink, I'll….ask for ginger ale, it really helps during busy operation hours. On a serious note, I decline the offer in most cases.
My favorite bar tool is The recently acquired three piece cocktail shaker, which is pink in colour, and works wonders for any occasion from house parties to hotel events.
The best cure for a hangover is I affirm that tomato juice with freshly squeezed lemon, dash of Tabasco and pepper with carbs can cure any hangover, for summer months the orthodox fresh lime water works with no flaws.
I'd love to have a drink with – Jeremiah Thomas, famously known as Jerry Thomas, the father of American Mixology, the bartender who started it all.
Best drink to order if someone's on a date is it's the drink which was created by my favorite Indian Bartender, Mr. Devender Sehgal. It's called The Optimist, the cocktail is opulent and minimal at the same time. Bacardi white with hints of ginger, honey and basil resulting in a glistening emerald elixir served in a champagne coupe. Its always essential to commence and finish a date on an 'Optimistic' note.