I'm drinking a Brooklyn Brewery Lager with Ankur Jain @ TLR Café, Hauz Khas, New Delhi
One thing you'd like to change about the Indian market:
No surprises, here, Taxes!
Who do you think sets drinking trends in India?
A set of increasingly important curators in the form of a few F&B Directors of leading hotels and owners of a few independent bars.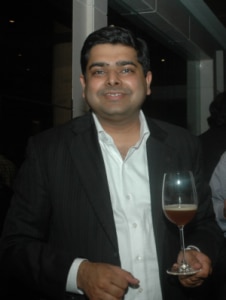 What according to you is the most overrated drinking fad / drink in India at the moment?
Wine for Sure. It doesn't sit well with India's climate or food. I can't think of any other tropical country, where wine has gone well.
What's the next big thing for India?
Would like to see a globally competitive craft beer emerge from India.
Which is your favourite beverage brand ad campaign?
Coca Cola's Open Happiness
Which is your favourite Bar in India and why?
Mocha Art House @ DT Promenade, Vasant Kunj, New Delhi. I haven't yet see a bar like this which captures the gen next vibe in India.
One fictional character that you'd like to share a drink with?
It would have to be a hot female, I'd vote for Pussy Galore.
If you were stranded alone on a deserted island, what's the one drink that you'd long for?
Definitely, a craft beer, Brooklyn Lager.