Sazerac
Sazerac – – Bourbon Whiskey (or Rye), Angostura Bitters, Peychaud's Biiters, Sugar Cube, Absinthe, Take a rocks glass and rinse it with Absinthe. Discard the excess absinthe.; Place the sugar cube in the mixing glass and add both bitters, and gently muddle the sugar cube; Add the whiskey, with lots of ice and stir.; Strain the drink into the glass (without ice), garnish and serve.; –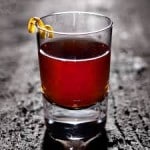 60

ml

Bourbon Whiskey

or Rye

2

dashes

Angostura Bitters

2

dashes

Peychaud's Biiters

1

Sugar Cube

2

dashes

Absinthe
Take a rocks glass and rinse it with Absinthe. Discard the excess absinthe.

Place the sugar cube in the mixing glass and add both bitters, and gently muddle the sugar cube

Add the whiskey, with lots of ice and stir.

Strain the drink into the glass (without ice), garnish and serve.