[vc_column width="1/1″]In the middle of the Atlantic, an island called MADEIRA, discovered by the Portuguese navigators and part of Portugal ever since. The island wasn't inhabited. It had to be cleared for cultivating wheat, vines and sugarcane. Noble men from Lisbon with laborers from Northern Portugal started building the infrastructure needed to plant vineyards, terraces and water channels meandering through the volcanic rocks. Then they planted several grape varieties from Northern Portugal, as well as Candid Malmsey, the especially sweet grape from Crete, known to Prince Henry the Navigator. It didn't take more than 25 years until the export of Madeira wine began, unfortified dry white wine of distinguished quality, shipped over the oceans to England first and then to America.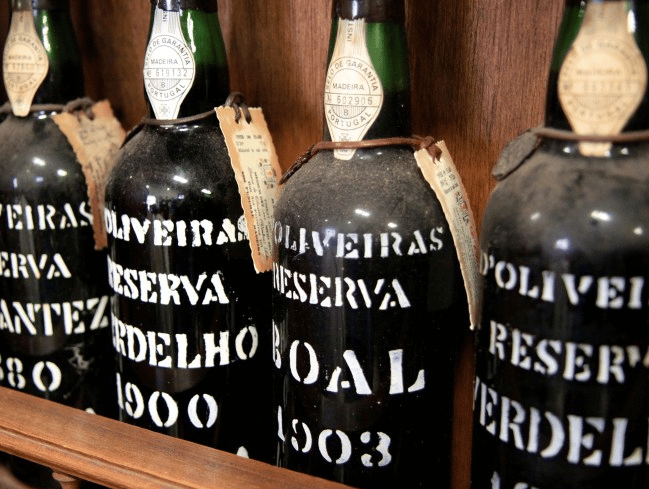 Following the shaping of the commercial trade routes from Europe to America as well as those eastwards, Madeira Wine had been introduced step by step to people around the globe. The celebration of the Declaration of Independence of the United States of America on July 4th, 1776, by its first President George Washington, had been marked by a toast with a chalice of Madeira Wine, underlining the fame it already had. And the Island's wine only gained in prestige over the years.[/vc_column_text][/vc_column][/vc_row][vc_column width="1/1″]Fortification became rapidly usual for Madeira Wines, a habit that secured the wine's stability for the time on sea, similar to the story of Port. What is unique for Madeira, the flavors of roasted nuts, stewed fruits, caramel and toffee, turned out to be an accidental consequence of the dry white wine travelling by boat over the oceans. The casks baked in the sun on the boats over the long weeks on sea and transformed the wine. The taste was amazing and highly appreciated overseas. Madeira's wine producers started to send their barrels on round trips between continents, for the sake of baking them in tropical sun before selling the wine. Towards the end of the 18th century, they searched and found techniques capable to get the same famous flavors born at sea reproduced on land.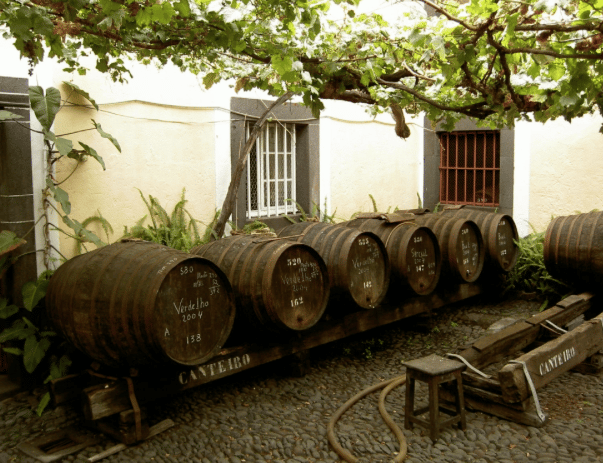 Today, lower quality wines are aged in special steel vats laced with water-heated coils, which raise the temperature up to about 55C for the time of three months. Sugars caramelize, the wine is allowed to oxidize, and the effect is a sweet wine, frequently used as an ingredient in fine gastronomy.[/vc_column_text][/vc_column][/vc_row][vc_column width="1/1″]The higher quality Madeiras, generally those made from the noble 4 varieties Sercial, Verdelho, Boal and Malmsey (Malvasia), are aged in barrels. They are stored in the Canteiros, the rafters of the wineries, oriented with south facing windows to allow the barrels getting sun drenched. Temperatures reach between 30 and 40 degrees. Some of them stay there a minimum of 10 years, most of them 20 years, the minimum age for vintage Madeira. The special wine, the very best, can mature almost endlessly. Even more than 100 years old Madeiras are still highly appreciated!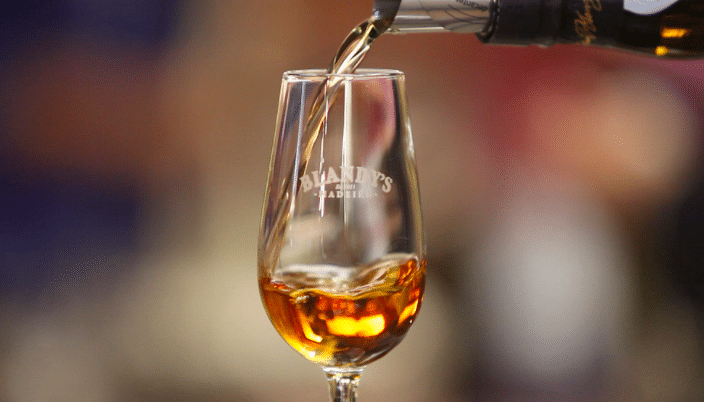 [/vc_column_text][/vc_column][/vc_row][vc_column width="1/1″]The palate of Madeira Wine depends on the harmony of three factors: the degree of sweetness, acidity and alcohol content. All of them are high in acidity. Sercial is the driest, then comes the medium-dry Verdelho before the medium-sweet Boal and last Malmsey, the sweetest. The appropriate serving temperature depends mainly on the degree of sweetness, age and variety of the wine. It is usually recommended that the wine be served at between 13 and 14º for younger wines while older wines, given their greater complexity, should be served at a temperature varying between 15ºC and 16ºC.
Sercial shows lemony, spicy herbaceous notes, often with a stony mineral character on the palate. It's a wine with a slight sweetness offset by its acidity, especially when served chilled. It's an excellent wine for an aperitif or alongside light fish and vegetable dishes.
Verdelho is smokier, slightly more concentrated and richer than Sercial, has notes of spice, salt-sea aroma and light caramel. A classic pairing is soup, especially seafood bisque or leek soup. Verdelho's dryness and intensity of flavor makes it one of the most flexible Madeira styles for pairing with foods of varying richness.
Boal is sweet Madeira that shows complexity and rich aromas, smells and tastes like roasted coffee, salted caramel, bitter cacao, dates and golden raisins. It is great with any desserts that incorporate nuts, figs, stewed fruit, caramel or chocolate and is also an amazing pairing with rich cheeses.
Malmsey, the richest and sweetest style of Madeira, is an excellent pairing with rich desserts, chocolate, ice cream, also with cheese. It's the one with the most fruity, roasted nut and chocolate notes of all the styles of Madeira. Malmsey is actually a dessert of itself.

As an insider of Madeira wines nicely put it "up to 10-year old Madeira can be paired with anything, follow your inspiration! But when it comes to older, vintage-dated Madeiras, they have enough complexity to drink them by themselves. They are wines of reflection."[/vc_column_text][/vc_column][/vc_row][vc_column width="1/1″]Madeira wine is making a come back for some time already, as do Port and Sherry. The good news is that most any Madeira is excellent wine, as age is no issue, price therefore reflecting quality. Important also to know, that even an opened bottle will keep the quality.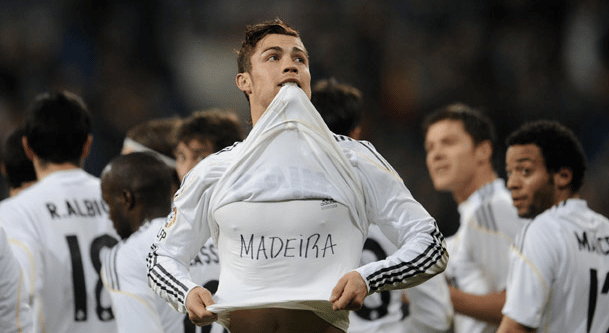 Excellence and uniqueness are the important characteristics of Madeira's wines. The same is true for Madeira's famous son, Cristiano Ronaldo. And with respect to longevity, we wish him the same karma as Madeira's wines…..stay young forever!
Nina Spinnler from Portugal[/vc_column_text][/vc_column][/vc_row][vc_column width="1/1″]Cocktail suggestion: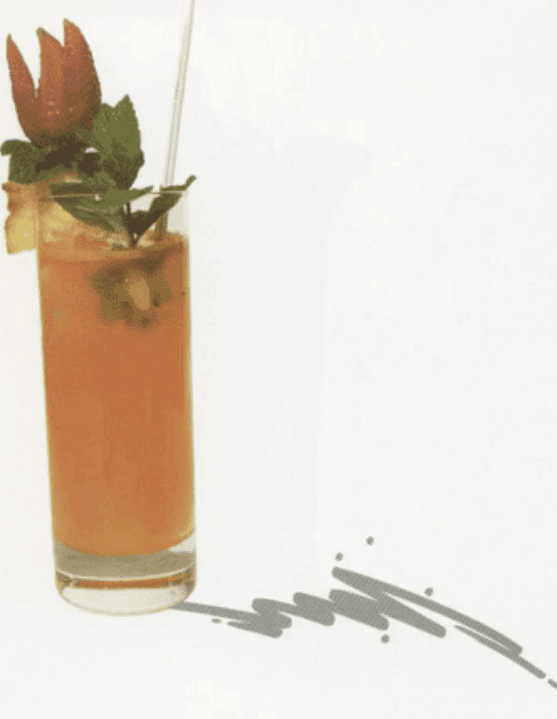 Forever Fresh
by Rui de Jesus Gonçalves from Hotel Madeira Palacio
Ingredients
3/10 of dry Madeira
3/10 of Apricot Brandy
4/10 of fresh Orange Juice
some drops of Grenadine
Garnish with Pineapple, Kiwi, Strawberry and fresh Mint
Prepared with a Shaker[/vc_column_text][/vc_column][/vc_row]