Coffee with NR Jagdale @ Jagdale Group Head Office, Bangalore
One thing you'd like to change about the Indian market:
With reference to Single Malt, I would like to see more education going into Malt whisky, especially amongst youngsters. So they will be in a better position to know about the quality of the product they are drinking, and they are more confident of the intrinsic quality of the product they are purchasing. We want that consumers develop a mindset towards the product and it's quality, rather than the brand and it's packaging.
Who do you think sets drinking trends in India?
The Media plays a role here. So does the cinema. And your Peer Group.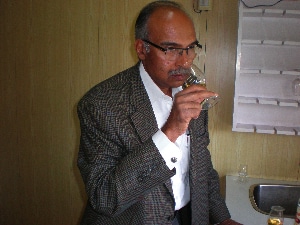 What according to you is the most overrated drinking fad / drink in India at the moment?
Honestly, it is the White Spirits segment. It is nothing but pure neutral alcohol. It has no character of its own. You are only building its character by mixing it with something.
What's the next big thing for India?
Mid luxury segments and above. Maybe Higher quality blends, and then to Single Malt, or 100% grape brandies, better made rums, Cognac.
Which is your favourite liquor brand ad campaign?
Can't think of anything of the top of my head.
Which is your favourite Bar in India and why?
I don't visit a lot of bars myself. I like the bar at the Ooty Club, it's the right place to sit and enjoy a Malt.
One fictional character that you'd like to share a drink with?
James Bond (Sean Connery), have a Malt Whisky with him. I would certainly like him to taste Amrut and our 100% Peated Malt. I would like his true opinion as a Scotsman (Connery, not Bond).
If you were stranded alone on a deserted island, what's the one drink that you'd long for?
If it's a cool place, a nice peated malt of ours.