[vc_column width="1/1″]Food wise, Delhi is an amalgamation of diverse cultures, eating habits and cuisines. Much has been talked about it since time immemorial. Lately with the launch of the Delhi Pavilion at ITC Saket, this space has livened up and all this talk about Delhi food has inspired me to explore the drinks of Delhi.
I have been a Delhi boy throughout, Delhi is home, well Delhi is Delhi, and it's incomparable to any city I have been to. Be it Dilli 6, Lutyens Delhi, or either side of Dhaula kuan, I know Delhi and the essence of the city, I feel it, live it day in day out. And as I said, Delhi is home.
I am not sure whether these drinks/ beverages are native to Delhi, but one thing is certain, Delhi almost owns them. These drinks have been a part of my growing up in the city, and all have sustained the time test.
Let's start with the alcohol, this list is small, and it's not based on the actual spirit or brew but on how Dilliwala's have consumed it over years.[/vc_column_text][/vc_column][/vc_row][vc_column width="1/1″]
QUARTER KE DO
Ek quarter do peg, has been the pour for Delhi since ages. Rum, Whisky, Vodka anything can be mixed in this proportion. 2 guys, one car, Ek quarter and 2 fountain cola glasses, half of the quarter emptied in each glass has been the gold standard. Instant gratification guaranteed, followed by a movie or a bar-be-que dinner. Depending on how long one has been doing this, the number of quarters increase but the ratio of the peg and the quarter remains the same.
Interesting fact – People purchase two quarters instead of a half (easy to portion control, and easy to put in the pockets)

[/vc_column_text][/vc_column][/vc_row][vc_column width="1/1″]
WHISKY WALA MAUSAMBI JUICE
My home in the west part of the town, and interestingly 3 alcohol shops are a 5 minute lazy walk away. Each Alcohol shop in Delhi has its own small little ecosystem. A cigarette vendor, a guy selling chakhna and most importantly a juice wala. The scenes late evening are hilarious. A gentlemen on his two-wheeler will semi park his vehicle on the road, one hand on the counter, one on the wallet, telling the shop boy to bring him his brand and simultaneously signalling the juice wala to prepare his juice (mixer).
Multitasking to the core. Everything happens in a span of 5 minutes, the purchase, the payment, the juice getting ready and the drink being consumed. Assumingly, the two-wheeler remains on during these events and by the time the signal turns green our guys is off to home. If he has not finished his quota he will make another stop on the way.
So now that I have got the alcohol off my chest let's talk beverages that are refreshing, nourishing, comforting and that are so Delhi.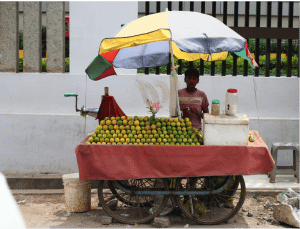 [/vc_column_text][/vc_column][/vc_row][vc_column width="1/1″]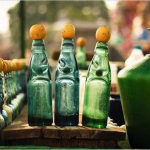 Nimbu Lemon Banta, Masala soda, Lemon or Kanche wali botal, no matter what I may call it still remains an iconic beverage meant to beat the heat.
It is such a dominant preposition that even the Cola giants have tried their hands at replicating this drink. Each vendor has a secret recipe that starts with the Banta bottle, the masala, lemons, ice (it used to be kachi baraf broken with the pointed object while placing the big chunk of ice in one's hand).
I and my brother used to share a Banta purchased from our pocket money. We used to flip a coin for whose going to take the first sip. Being the younger one I used to invariably be fooled by a trick up my brothers sleeve. The mechanism of the bottle is such that if you don't sip it the right way, the marble (kancha) will obstruct the outflow (hence an extremely short sip). I invariably ended up sipping it the wrong way, I was told that I am doing it the right way. Top bars in the city have also rekindle the romance with the Banta bottle. With exciting concoctions, and flavour options available, the modest Banta is now seen in the most upmarket places. The drink is even served in top banquet operations in luxury hotels.[/vc_column_text][/vc_column][/vc_row][vc_column width="1/1″]
Kanji
Aged cocktail geeks must pay respect to the mother of all aged drinks, The Kanji. Traditionally prepared in a round earthenware pot, kanji is a deep hued, end of the winter drink. Made form purple carrots it's a seasonal drink that marks the end of winters in the northern states. This spiced brew is flavoured with rai (mustard) and kala namak (rock salt) and aged for 5 to six days, post the mixing of the spices, water and the carrots.
Kanji acts as a digestive, thus making it a great picker-upper for sluggish appetites. Despite the spices in the drink it is believed to have 'cooling' qualities.
[/vc_column_text][/vc_column][/vc_row][vc_column width="1/1″]
RimZim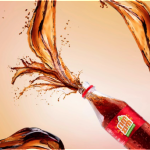 Another spiced favourite but this one is factory made. Touted as the real Indian soft drink, this one was tangy, sweet and chapatti. For some odd reasons one was allowed to have RimZim but not Campa-Cola (perceived better – and for people who were born after Pepsi and Coke came to India, you need to ask what was Campa-Cola like?)
RimZim is making a comeback under the Coca-Cola Company in Delhi, and the northern states. There are mom and pop shops famous because they sell RimZim. RImZim has an acquired taste so either you'll love it to the hilt or let it pass completely. Again a huge opportunity for mixologist who try their hands at Indianised cocktails.[/vc_column_text][/vc_column][/vc_row][vc_column width="1/1″]
De Pauls cold coffee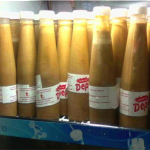 Beginning from a small store at local street market Janpath with just two options – hot or cold coffee, DePaul's has grown to an unimaginable size with multiple stores across Delhi. There are over 10 flavours – from roasted almond to the tongue twister coffee toffee caramel coffee. The original is still the best selling and the charm of the Janpath store keeps increasing. It's a must have when in Janpath. Almost like a ritual you end up having a cold coffee at De Pauls when in the vicinity.[/vc_column_text][/vc_column][/vc_row][vc_column width="1/1″]
Keventers Pineapple shake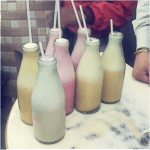 Keventers and milk shake are synonymous terms in Delhi. Cold, full cream milk + Pineapple Syrup + Sugar, blended together and served in a chilled glass bottle is the simple recipe but no one other than Keventers has got this right. The right fat content of the milk, the balance between the sugar and the flavouring, the soothing colour of the shake and finally the bottle it gets served in make it a must have.
Caution – The Pineapple shake has an extremely lengthy finish, the burp 4 hours after the consumption of the shake will remind you pineapples.[/vc_column_text][/vc_column][/vc_row][vc_column width="1/1″]
Rabri Falooda
Rabri poured over Falooda and crushed ice, sweetened with flavoured sugar, topped with nuts, served in a glass with a spoon.
For some this is a dessert, for me it's a drink that I can also eat. Packaged with oomph, this is surely heavy duty. Not for the mild hearted, it takes some running the next day to burn off the calorie intake.
Note – the term condensed milk can't do justice to rabri. Rabri is rabri and so is Falooda, it's neither vermicelli nor its rice noodles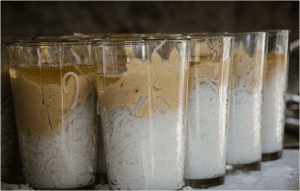 At the core all these drinks have remained the same over decades and that is what makes them a cut above the rest. I am sure this cannot be the final tally, there would be more such peculiar drinks hailing from Delhi's specific areas. Another article may be? Till then enjoy the ones mentioned, hope this word play brought back some memories and put a smile.
Regards
Insideratfood
Tarun Sibal[/vc_column_text][/vc_column][/vc_row]